The "Good Point" blog is about "Ethical Electronics Exports, Fair Trade Recycling". Composed by Robin Ingenthron, founder of Good Point Recycling and the WR3A non-profit, the site discloses the company's position, policies, as well as the personal opinions of its founder. It has become an important source of inside information on the "e-waste recycling" business for academic research into recycling policy. The website invites dialogue, promotes discourse, and twitters recycling policy forward, using humor, music, and mind-bending analogies to convey important issues.

The recycling industry has been accused of misleading consumers. Ingenthron hopes that a "warts and all" blog which fully discloses the company's opinions and practices will temper cyncicism about green businesses. Frequently cited by the recycling trade press, the Vermont blog has been labeled "bracingly honest", a "creative approach", and a "refreshing" break from recycling dogmas.

To add our blog to your own RSS Feeds, paste this link: http://feeds.feedburner.com/blogspot/GQskD

As a passionate defender of "fair trade", Ingenthron writes, "Our company's first motto was that we are who we say we are, and we do what we say we do, which is kind of a sad commentary on the e-waste recycling industry." He hopes that in the future, people can once again take that for granted.

Meanwhile, a growing number of academics, entrepreneurs, and government recycling coordinators use the SEARCH function on the blog to mine answers to specific questions. They find external links to film of operations overseas, data on the company's Mexico operations, export policies, its domestic recycling capacity, hard drive data management, and more. The Good Point blog offers insights into positions staked out by EPA, ISRI, NRC, NGOs, and International institutions on mining, disposal, and recycling alternatives. Perhaps our most important followers are overseas.

Before creating American Retroworks Inc. and WR3A.org, Robin Ingenthron was Recycling Director at Massachusetts Department of Environmental Protection. His division implemented the first CRT "waste ban" regulations, the first market research on CRT reuse and recycling, and the first state RFP contract for municipal "ewaste" recycling (a state contract is enforceable by the Attorney General, giving it more teeth than a "Pledge" or "Certification").

Ingenthron has a BA in International Relations from Carleton College, and spent a semester at the UN in Geneva. With the US Peace Corps, he trained in Congo and taught school in Cameroon. He was hired by Peace Corps to stay in country as a "cross cultural trainer" before returning for an MBA Peace Corps scholarship at Boston University. He worked as a consultant for operating systems software industry, and as a co-director of two recycling non-profit organizations.

Good Point Recycling is a member of Vermont Businesses For Social Responsibility, Association of Vermont Recyclers, and the World Reuse, Repair and Recycling Association [WR3A] an organization which establishes "Fair Trade" standards for surplus electronics exports, ensuring no "toxics along for the ride".


Latest Top (10) News
---
Right Wrong 5: MIT Senseable City, PBS, and Hong Kong EPD Responses
What is right and what is wrong about the BAN press releases, describing their story on PBS, their partnership with MIT's Senseable City Lab, their investigations with Hong Kong Environmental Protection Department? Home runs require you to touch bases. We are asking the referees - did BAN touch all the bases? Were sabotaged devices not repairable? Is Li Tong Group really not allowed to process OEM material at the state of the art EcoPark in Hong Kong? Are there child laborers in Shui Wai New Town? Are the 86% of Hong Kong called "New Territories" a "cowboy land"? Did MIT find any evidence that a single device they helped track was dumped illegally or repaired responsibly? Does PBS see a link between NGO sponsorship, accusations that workers surprised by cameras are "illegals"? Suddenly the reputations of MIT, Hong Kong EPD, and PBS are being held very, very tightly by Basel Action Network. Public display of affection. Their organization names have been meta-tagged with #trackingewaste.
What's up, ump? Did BAN touch all the bases? Did this expose do the primo non nocere?
Do tell us...
1. MIT QUALIFIES ITS ROLE
Carlo Ratti has just acknowledged our inquiry this morning. He's the director of Senseable City, and a TED Talk expert, and one of the most respected authorities on international city development. His opinion on Hong Kong recycling? On PBS, Ratti stated
"
One of the surprising things we discovered is how far waste travels. You see these kind of global e-waste flows that actually almost cover the whole planet.
"
Wait Carlo. You said "waste". Was it "waste"?
If you meant secondary materials...Well... not everyone is surprised. There have been quite a few studies on the transport of materials, including second hand goods and secondary materials, across international lines. The question is, "is it bad?" BAN says that the goods are handled poorly once they leave a port. If you meant "waste", then MIT is saying that the LCD with the controller board (4 sold in the last hour, below) is not replaceable and therefore the entire LCD is "waste"?
We complained back to Ratti that MIT has been involved in a declaration that the goods tracked are not repaired, and are irresponsibly recycled. BAN declares MIT shares their suspicion that the items to be "waste" and not for legal parts, recycling, or repair.
"Obsure remote area, a real cowboy-land" - Jim Puckett
This AM we have a qualifying statement from Carlo Ratti on behalf of MIT Senseable City.
"As BAN described in its report, MIT's only involvement in the project was the




development of the tracking technology and visuals for the website. All other aspects




of the project were the sole responsibility of BAN, including the data collection,


analysis, and interpretation. As BAN's report makes clear, the conclusions and


opinions presented are BAN's alone and not MIT's." - Carlo Ratti
Ratti and Senseable City are in the GPS and website business. MIT is not representing BAN's "findings", and is clearly not identified as the source of information provided by #KCTS9. We suggested that a stronger disclaimer is warranted on the website which describes BAN as SCL's partner.
Who else is backing away slowly?
2. PBS ASTERISKS
In the PBS segment, mmediately after the Ratti interview, PBS' narrorator states, inaccurately, that "a third of the tracked computers* were tracked to "a little known area known as the New Territories" (which Mr. Puckett describes as "cowboyland"). One of the ten most densely populated areas in the world is "little known"? As we noted in previous Right Wrong blogs, the "remote" area known as "New Territories" is actually 86% of Hong Kong and includes devices in Tin Shui Wei (hardly "cowboyland"). It's everything except the island of Hong Kong proper - and sometimes Kowloon is considered NT.
(*Oh yeah, there were no computers, only displays and printers).
PBS editors have now placed an edit on the online version of the story - that Wendy Neu is "a funder of PBS newshour". Wendy Neu was also the owner of New England e-Steward WeRecycle (which had no e-waste delivered or tracked) and has been, for a long time, on the Board of Directors at BAN. Readers of the blog will remember her testimony to United States Congress stating that "probably close to 80 percent" of e-waste is exported to developing countries
.
We also note that PBS has chosen to blur the faces of human subjects in the film, who, BAN states or implies, are "illegal" and "untrained" and representative of "child labor". All three might be true, but PBS editors correctly realized that this is a statement of opinion about a person (per MIT COUHES "a human subject") who, BAN claims, is doing something illegal. False claims, schmaltz claims, BAN pulls PBS and MIT into the group hug.
Which brings us to the third umpire - HK EPD
3. HONG KONG ENVIRONMENTAL PROTECTION DEPARTMENT DENIES BAN CLAIM
Under "legal" sections in its first report and follow up attachments to its press release last Monday, BAN has some curious wording about the printer scrap tracked to Hong Kong. In previous Right Wrong blogs, I showed links to Hong Kong EPD's website.
As we know, most of the "e-waste" tracked to Hong Kong by MoniTour was printer scrap, and by far, most of the material BAN and PBS show at the surprised "illegal" site was printers. Again, BAN's own website points out that it's all printers (they say from the United States, I'm not sure it's a given that most of the printers are from the USA). In its Report, BAN states:
"Ironically, it appears that Hong Kong, usually thought of as one of the most technologically and economically advanced areas of China, has not enforced the Chinese import ban as diligently as mainland China has done, and appears to have, in fact, become a new pollution haven," the report reads...
Hong Kong EPD objects, clarifying that it does NOT consider printer scrap to be Hazardous Waste (or "Chemical Waste"). Like the USA and countries that don't follow the unpassed "Ban Amendment", Hong Kong EPD considers printers and circuit boards to be scrap. The Hong Kong EPD's press release on the visit to the sites BAN impugns makes this distinction - a printer scrap recycler was found with LCDs and CRTs, which is illegal. That doesn't say the printer scrap is illegal, it says the printer scrap recycler was - illegally - also processing other non-printer HW stuff.
Now I thought it was going to be a lot of work for me to point out that slight of hand (I see what you did there meme). But BAN has now BLASTED the Hong Kong EPD for not agreeing with them!
Responding to the report, the Environmental Protection Department expressed "grave concern" and on Friday said it had immediately initiated an investigation against the alleged recycling sites in the New Territories. "The EPD will not tolerate any hazardous e-waste being illegally imported to Hong Kong," a spokesman said.
The spokesman said the EPD has already contacted BAN for information and had urged them to provide US authorities "with relevant information at the same time to facilitate interception at source".

The department stressed that provisions set out in the city's Waste Disposal Ordinance were formulated "in accordance with the requirements of the Basel Convention" and were consistent with those adopted by other jurisdictions including member countries of the European Union.
Hong Kong Environmental Protection Department is proud of the state of the art ALBA and Li Tong Group facilities at its ECOPARK. They are trying to open the door for OEM returns and Manufacturer Takeback systems. But they do NOT consider printers "chemical waste" and now BAN is blasting them for granting recycling of printers "in accordance with the requirements of the Basel Convention."
ENVIRONMENTAL INJUSTICE
THAT INCLUDES
FALSE ACCUSATIONS
AS WELL
AS FAILURE
TO PROSECUTE.
ENVIRONMENTAL INJUSTICE
INCLUDES
ENVIRONMENTAL MALPRACTICE
MIT HAS SOOOOO MANY STUDENTS WHO KNOW ASIA AND HONG KONG ARE NOT PRIMITIVES, AND THEY DESERVE AN OPEN DEBATE ABOUT THE ALLEGATIONS IN #EWASTEGATE.
YOU BROUGHT BAN TO THE PROM, IT'S TIME TO DANCE.


Thu, 23 Jun 2016 23:36:00 +0000

---
Right Wrong 4: MIT Senseable City, ENGO vs. EcoPark, Geography
MIT's Senseable City Lab gave apparently new credibility to a wilting ENGO in Seattle, whose reputation for accuracy about "E-Waste Exports" has taken a couple of nasty hits in recent years. For example,
BAN.org tried to claim they "never, ever stated" that 80% of e-waste
was exported when multiple studies showed zero percent evidence of the figure. Then the
bete noir
of the past decade -
Agbogbloshie in Accra, Ghana
- turned out to be an unimpressive urban junkyard near the center of Accra, not a remote fishing village contaminated by imported e-waste.
BAN desperately needed a new "tragedy"
and turned to a methodology it had tried once before - placing GPS trackers into "e-waste" (?) and showing transboundary movement. With the help of MIT Media Lab's Carlo Ratti and his "Senseable City Lab" team, they found an e-Steward (a paying member) to put tarps in their parking lot and let BAN and its "volunteers" allegedly render samples of CRT monitors, LCD monitors, and printers "unrepairable" and place tracking devices inside them.
Thanks for the invitation to "Explore". MIT Tracking Has evidently led us to the discovery of a "Previously Unknown" hundred million dollar development - ECOPARK in Hong Kong.
Let's drill down and look for printer scrap, to see if we find "rice paddies" - or more confirmation that Hong Kong is richer per capita than the USA and generates more urban waste, requiring state of the art industrial sludge treatment, landfills, and e-scrap recycling facilties.
Lung Mun Road "EcoPark"
We've already critiqued (Right-Wrong 1-3) the flaws in the GPS tracking method. The cringeworthy treatment of TV repair professional and Africa Tech Sector trader
Joe "Hurricane" Benson
by "cutting a power cord" - resulting in Benson's imprisonment and Jim Puckett's excuse of "collateral damage" meant that
#BullyBoys
at BAN knew better than to send undocumented "sabotage" as "unrepairable" and "illegal".
MIT has now obscured the coordinates of the tracking devices. Now I can't track the printer devices directly to the EcoPark, but the buyers there are pretty darn close to the coordinates MIT has now obscured. But my point is that if the downstream recycler outsourced the printer scrap or stored it during construction, it does not support the defamatory commentary about "child labor" or "rice paddies" or even "previously unknowns" - we know where stuff goes, and MIT has tracked printer scrap to extremely close to where it should be. I have plotted where it was supposed to go on my own, and found SHOCKER it's in the same neighborhood... but I can't track it further, thanks to Obscured Data. Still - "Previously unknown" my a**. Who is engaged in "cover up" and "obscuring" the truth, now?
BAN's allegation that the printer scrap
(not commenting on the LCDs yet) was discovered to be scrapped at "previously unknown", "illegal", "child labor" facilities was reported by
+KCTS 9
with fanfare.
BUT AS I BEGAN RESEARCHING THE PLACES ONLINE, MIT and BAN suddenly made the coordinates "disappear". They had been provided briefly, and to certain paying E-Stewards the data had been given in advance of the press to allow them to prepare excuses and responses (those paying members, and BAN, may have the data currently).
But here is a geographic FACT. I have access to the exact sites which have been alleged to be "dumps" in "New Territories".
Here is a MAP OF HONG KONG (wikipedia). We are focused on Region 8 (
Tuen Mun District
), near the border of Region 9 (Yuen Long) where our printer scrap was supposed to go to the EcoPark. MIT has tracked it to -- Region 8/9 border .
Tuen Mun District
specifically, and here is what Google dishes out. Below that is a photo of one example of the "New Territories" (New Kowloon).
Here's a simplified map that shows, in grey, the heavily urbanized areas of Hong Kong territories.
Tin Shui Wai New Town
Number 8 is Tuen Mon District. Above it is Yuen Long District (home of the
Tin Shui Wai New Town
, one of the 5 most densely populated housing districts on earth), the tracked devices were near the District lines.
Hong Kong EPD issued a press release in March
which cites LCD and battery recyclers in Yuen Long of improper management, we suspect these are the yards that have been obscured by MIT. But we don't see any reference to printers, which Hong Kong EPD states clearly are NOT considered hazardous waste.
By
ZH
Moddlyg
Talk
+
-
Own work
,
CC BY-SA 3.0
, https://commons.wikimedia.org/w/index.php?curid=4329326
Zoom in close enough to see buildings, yards, etc...
So in the "Right Wrong" blogs, I've referred to the development of Hong Kong's EcoPark and R2 Certified Li Tong Group and New Faith recycling companies, and (Right Wrong 3) the massive EcoPark and hundreds of millions $US investment by ALBA, etc. Guess where those are on the map?
More photos at the
Hong Kong Environmental Protection Department's ribbon cutting ceremony
.
Opening Ceremony of the EcoPark WEEE Recycling Centre

The grand opening ceremony of the EcoPark WEEE Recycling Centre was launchedon 27 January 2011. The event was officiated by Mr. Edward Yau, JP, Secretary for the Environment. Mr. Yau remarked at the opening ceremony, "The WEEE Recycling Centre combines the elements of environmental protection, social service and education. Not only will it ensure the proper disposal of used electrical appliances and reduce the pressure on our landfills, but also create employment opportunities for workers of low technical skill, so that they can learn a trade."

The 5,000-square metre EcoPark WEEE Recycling Centre is Hong Kong's best equipped centre for recycling used electrical and electronic appliances. Through donation, refurbishment and dismantling, used appliances can be recycled or put to second-hand use to help the needy.
So look again at where the scrapyard where the printers were found is located.
So as we documented in Right Wrong 3, MIT MoniTour has now hidden the coordinates, which may still be accessible to BAN and it's paid E-Stewards. But I think have it, based on proximity to the sea containers at what appears to be the printer scrap yard.
According to my sources, Hong Kong EPD is NOT enforcing on the printers that BAN announced (they are investigating LCDs and CRTs, whether locally generated or imported). But if there were CRTs, LCDs or batteries in the yard, they are in trouble. But take a close look here at how small this yard is. Is this supposed to mean that millions of tons or USA e-waste are processed by 4 Chinese printer scrappers in Tuen Mo?
I think the yard BAN found is in Ha Tsuen.
And as documented last week, MIT Senseable City has ignored our requests to meet and discuss our data, the ethics of their use of the data, the allegations of "child labor" at the location in Hong Kong above, and the possible influence of fundraising partners. BAN is desperately are trying to show their breathe new life into the racist depictions of the Tech Sector and Recycling Sector overseas. BAN refers to this area as "rice paddies" - hyperbole to compensate for a position declining influence.
Now, the printer scrap area is ugly. But for sake of comparison, here's scrap metal in Addison County, Vermont. Using the containers to approximate the size, I think the printer scrap area identified in Hong Kong is about 1/5 the size of a local Middlebury scrapyard, which itself is about the size of Agbogbloshie.
Anthony Schick seems like a nice enough guy. Probably would fit in well with the Boston Globe reporters of Spotlight, graduate of University of Missouri (best J-School in America). But if he sits down and reviews last year's explosion of #ewastegate and the false claims made about Agbogbloshie, and starts to look at the EcoPark in Hong Kong, the recycled plastic content demand by original electronics equipment manufacturers in nearby Shenzhen, he may yet realize that what BAN and MIT have described as "previously unknown" destinations is actually perfectly well known to everyone involved in "MANUFACTURER TAKEBACK PROGRAMS", the very solution BAN has for decades announced as their goal.
Acer and Wistron announce need for recycled plastic content in new devices manufactured in Shenzhen (Chinese city sharing port of Hong Kong).
Hong Kong announces massive generation of e-Waste by its own residents (higher per capita than USA)
Hong Kong Environmental PD designs plan for huge scale state of the art E-Scrap plants to supply Shenzhen's recycled content needs.
USA R2 and E-Steward recyclers enter into private commercial agreements to supply those needs, after determing Hong Kong EPD does not consider the printers hazardous waste.
Maybe the Hong Kong recycler was buying before construction caught up at the EcoPark. Maybe they identified certain laser printers were not classified as HW and sold them. Maybe they running a sham recycler at the EcoPark. Maybe someone at a scrapyard misrepresented the downstream. Maybe the USA recycler we sold to did. I'm not judging this. I'm just putting this into perspective... it's a small yard in a city-state of 8 million people. Recyclers there separate metal and plastic with hammers, by hand, the way my employees do. We can try to find answers to these questions without resorting to describing Africans as monkeys or Chinese as child labor lords.
Again, if MIT is obscuring these sites out of concern for privacy, legality, and ethics, as implied in their obscured map of Hong Kong, that's fine but then ALL sites must be obscured. Like this poor homewner who purchased an LCD, according to MIT, perhaps from a thrift shop in Eugene, Oregon, to bring home to XX address at YY street in the City of XXX in USA. I have the exact address, and the person's name. But unlike MIT, I don't think it's ethical to state publicly that the private purchase was "previously unknown" and therefore "newsworthy and public".
MIT, you meant well. Anthony Schick, your team meant well. But a little bit of Socratic method and
Q-Method research
goes a long way. Link to your alma mater's William Stephenson, who built Missouri's Journalism School by teaching the importance of avoiding easy stories perpetuate groupthink. Try a little "play theory".
This blog is about ethics of e-waste recycling. We explore lifecycle costs, mining, geography, research, public policy, etc., but ethics is at the core of this. Primum non Nocere dudes, primum non nocere.
Press release from BAN today -
"As an immediate solution, BAN recommends that business, government, and the public only use e-Stewards Certified Recyclers. e-Stewards is the only certification that prohibits exports of hazardous e-waste to developing countries and all e-Stewards recyclers are monitored by unannounced inspections as well as potential downstream verification through electronic tracking devices, in addition to annual on-site audits by certification bodies."



BAN's financials show the source of income
(financial interest, in MIT Ethics speak) from E-Stewards they recommend... even though there is no indication in the MIT report that E-Stewards recyclers were less likely to export.


Mon, 20 Jun 2016 12:53:00 +0000

---
(Digression - Why Would What "e-Waste" Gets Exported Evolve?)
In March 2015, a group of Ghana customs agents, Ghana Tech Sector importers, and three USA journalists accompanied WR3A from the scorched waterside where copper and aluminum wires - wires from cars, appliances, and computers - were being torched in tires. We'd walked about the fires, dodging the black smoke, as WR3A's Dagbani translator (and Tech Sector Geek, f
irst introduced on this blog (May 2011)
translated for a group of young men led by Muhammed Awal.
(Note: I've kind of deliberately avoided really nice photos here, just to kind of capture the ordinariness of it all)
The photographers (myself included) had all snapped some great and alarming shots of young men, dirt, poverty, pollution, and smoke. The ENGO's halloween language would be hard to resist. But we now moved the the larger Agbogbloshie yard, where by hammer and screwdriver and axe, metals were being separated from each other and from the plastic skins and wire nerves that bound their bodies.
The first electronic or "e-Waste" device we photographed was a VHS or VCR player. It was, no doubt, originally imported used. The Italian photographers got their lenses up close, accepting the premise that this represented and "obsolete" import.
Joe Benson's container exports were itemized, not just by count of appliance, but by brand and model. In 100 pages of documents I reviewed, there was no VCR. Wahab, the Ghana Tech who made our tour possible, would never have imported one.
But back in the day, when I lived in West Africa in the 1980s, VCRs were a hot commodity. An entire industry of "duplicate" movies existed in Nigeria. Knock off copies of "Rocky" and "Rambo" and "Bob Marley Concerts" were in every marketplace, from Yaounde to Ngaoundal. Cameroon was still in the business of erecting TV towers, but the "critical mass of users" who made those investments promising had obtained used CRT televisions - every one of which demanded a VHS player as much as it did electricity.
When I looked down and saw the young men pounding, I saw a flashback of scrap appliance from Africa's past decades. I wondered, did the young Italian documentary makers (in their 20s) have any idea what a VHS player was, and could they imagine a Joe Benson or Wahab buying one from an "e-waste" collector and paying thousands of dollars to ship it here?
The Ghana customs agents walked away from the VCR having seen evidence that the scrapyard was full of Accra city junk. The Ghana scrap "boys" walked away, having seen a piece of metal one of them had purchased for a few dimes and put on a push cart... they saw a piece of electronics so old that they were able to buy it for its metal value, so obsolete that even Agbogbloshie's tech shops had taken a pass on it. The Ghana importers saw something they had seen in USA or EU scrap bins, but been no more interested in importing than a coconut husk. I saw confirmation that imports were not the origin of the waste we saw transformed into urban mine recycled metals.
But as the photographers circled and clicked their cameras, what did they think they saw confirmation of?
Demand in Africa evolves. In the 1980s, VCRs were valued almost as much as the television itself, and their import drove a massive Hollywood and MTV counterfeit tape industry across Africa's coast. But the end of the 1990s, the price of VCRs has fallen. Blockbuster video stores supplied movies even cheaper than Nigerian knockoffs, as they moved inventory into DVDs. Streaming would make even DVD rentals a dinosaur. CRT televisions have had a stubborn demand because the fluctuating "fuzzy current" in African cities tends to blow out modern lightweight Chinese product, but now even the CRT import business has declined.
The waste is driven by consumer elective upgrade.
The demand is driven by consumer elective upgrade.
Someday, the device we buy will be upgraded. One day the metals were born - either in a mine or a recycling yard - and formed into a device which will one day meet its fate in either a landfill or a another recycling yard. That's true whether the consumer is African, Asian, European, American or Islander. It is a universal human condition, a common stake. Recycling unites us.
There's no one to "arrest" here, no "E-Waste Kingpin". The war on mass communications is as hopeless as the war on drugs. Project Eden is a laughingstock. The problem is that no one is laughing, and the smudged reputations of Africa's Tech Sector is just another artifact of Racism. Banning all muslim tourists and immigrants, deporting all Mexicans, stopping all trade with China, move over. Banning trade with Africa's Tech Sector needs a place at Racism's table.
What's important here is that liberal Blue State ENGOs, not Trump Tea Party David Duke Red State rebels, are responsible for this high tech lynching. We have met the enemy, and he is us. Liberals feed off the burning images of victimized minorities, just as conservatives feed off the images of fear. Using race to trigger animal instincts, fear and nurture, is the ju-ju here.
We have met the enemy, and he is us.


Thu, 09 Jun 2016 12:16:00 +0000

---
Right Wrong 2: African Ambiance at MIT Senseable City Lab
I'm looking for time to edit down the long post I've written for "what the NGO's and MIT got right, what the NGO's and MIT got wrong" piece. That's a problem for me, finding time to edit stuff.
The 14 months that have now passed since March-April trip to Ghana in 2015 have been in large part the editing or digesting of the experience there. I'm still re-editing things I wrote at the time, I'm still reviewing interviews we filmed. And new information keeps coming, even as the situation is evolving.
Wahab - our business partner in Ghana - has been back and forth four times to see his cousin Kamal, CEO of Chendiba Enterprises. And I continue to take calls every week from young men I met there. Kamaldeen has now finally graduated the engineering school program (he had been working at Chendiba Enterprises to help pay for his studies). And Awal, the "lead guy" of the wire burning men at Agbogbloshie, still calls several times a week. When Wahab's here, it's easier, because my pidgin English is really rusty. Wahab and I help ground each other's wires; my compassion for Awal keeps Wahab from spanking his ass for calling and shilling, and Wahab's grown up expectations of the men (and Awal is definitely a man, not a "child labor orphan") who will twist a guilty knife is welcome intervention in the role-play. I've had good and bad experiences intervening in Africa, and having time and partners from the area give needed perspective.
What I need to say about Jim Puckett, Kevin McElvaney, and the MIT team, PBS and @Earthfixmedia is important, but I do owe it to them to take the time to edit. They deserve the same compassion and patience we show Awal and the company at Agbogbloshie. And this extends of course to Dr. Jack Caravanos and PureEarth, and the StEP team, and everyone in the business of "saving Africa". I need to edit, and to demonstrate the dignity these researchers and journalists deserve.

It takes time. Primum non nocere. Don't rush to judgement. Listen to your human subjects. Basics.

(Why is TSHALA MUANA unnamed on a "various artists" album? She's a star!)
Like, "don't accuse a specific person or business at a specific place on a map of employing child labor". That's pretty basic. I mean, since you haven't shown any evidence of it. I've found generally that accusing people of employing child labor is pretty heinous complaint, one I might want to edit out of a press release if there's a chance someone just made it up. Last thing you'd want to do is make a very specific charge, like using child labor, based on a geography of a device, if in fact you don't have a scintilla of evidence that children work there. If you made the complaint against the wrong person, like say in a police state you track a device to, you could wind up getting that person arrested or much worse. Just saying.
It takes time to really digest and edit our blogs and research papers, to make sure that the ethics aren't lost in one's desire to demonstrate one's coolness. I've been in the "saving Africa" business a long time (long enough to say it with tongue deeply in cheek). And it's ordinary that someone like me who has been in the business of intervention a long time develops a cynical or resentful view of people whose hearts are in all the right places, but present themselves as knowing something they don't know (like workers are "orphans"). That resentment often crops up in my writing, which is why it takes so much time to edit.
When people who have a lot of influence in the press come in with baggage and agendas, it's disappointing. They perhaps don't realize they are corrupting something good (the worst recycling is better than the best mining), and misusing the influence of their institution. In this "world-saving" business, we learn that first hand, by making mistakes the first few years we are involved overseas. I've made a lot of mistakes and only hope I'll make fewer of them, and this particular mistake I keep making falls under "
rush to publish
". MIT Senseable City Lab probably has heard that phrase.
Patience is a virtue. Hurry hurry broke trowser. Pause before hitting the send key... Ethics live close to courtesy, and being courteous to human subjects whose homes and businesses you've pinpointed on a map seems like a good idea.
The patience that Chendiba Enterprises has with Good Point Recycling, and the patience Good Point extends to our partners in Ghana, doesn't come naturally to PCVs, academia, or photojournalists. My conversations by text with Peter Essick (National Geographic photographer) or by phone with CBS Michelle Rey came for me as a moment during a 30 year work in progress. But for them, it's a publishing deadline. If they spend even two months to understand Guiyu or Agbogbloshie, that's considered "long form journalism". When their business is photography, or documentary film,
they are there for a moment that evokes compassion in a paying audience
.
The NGO, academic, volunteer, or photojournalist isn't a bad person. There are a lot of things they get right. They represent a kind of antibody, a white blood cell, which we need to govern the business relationships which, absolutely, are subject to the ills of asymmetric power. If a USA surplus property office is in the business of making money on asset recovery, and an African trader has a bottleneck of a sea container to fill, it's absolutely a recipe for "toxics along for the ride". Not everything that gets exported gets fixed.
But boiling down the relationship to "Recyclers don't care about people they do business with" or "reuse markets in Foshan use child labor to refurbish display devices" is nothing short of pompous. It would be as easy to write that the academics, NGOs, and photojournalists "don't care about their research subjects" (and in too many words here I've done so). But "whites impugning other whites"* doesn't do anything to "save the blacks", and a really 3 decade long involvement in environmental and human development can't always begin to even translate the issues at stake --
drive-by-savior culture of reflected cave shadow compassion megaplex
.
During the three decades I've been trying to stay involved with the Africa I fell in love with in Cameroon, my own compassion has matured. I'm very proud of my family, and my relationship with my beautiful bi-national wife. If you have been married for about 30 years, you know that relationship far more deeply, and reverberatingly, than you could know on your first date,
love-at-first-sight-notwithstanding
. The woman or man you fall deeply in love with changes over the years, and you find things out about them and about yourself that you couldn't have known in your 20s.
So by analogy, I feel like I've been in a long relationship with the Emerging Market's Tech Sector. And it almost feels like BAN and MIT and McElvaney want a one-night stand. They don't realize that's what they are after, they are like the Peace Corps volunteer's American visitor pal who wants to "hook up" with a gal in the village. They may both be attracted to each other, and intervening maybe isn't your job or responsibility, but the likelihood that Peter Essick develops a longstanding relationship with a child who has been posed with scrap wires on his head is next to nil.
Boom MIT:
http://couhes.mit.edu/definitions#Exempt%20status
MIT has an Ethics Department whose job it is to monitor experiments on human subjects
. And that's basically what is going on with the #TrackingEwaste MoniTour Senseable City Lab and Basel Action Network Project. They've attached tracking devices to used electronics which may or may not be repairable (we really don't know at this point) and sent them into an ecosystem of reuse, repair and recycling. And then they came straight out on PBS and made moral judgements, claiming to have found extremely specific "previously unknown" problems, like alleged "child labor" in Taiwan and Hong Kong.
During the 3 decades since I first went to Africa, my number one concern there - hard rock metal mining (which is the most polluting activity on the planet) - has gone bonkers. USA and EU regulation of smelting and mining activity, combined with Asia's enormous appetite and need for non-ferrous and ferrous metal extraction, has directed vast investments to exploit metals in Africa.
That was my environmental bent going to Africa in the 1980s, and the comparison of the toxics released by recycling appliances and mining lead, silver, gold, coltan, tin, copper and iron from Africa's mountains and jungles is stupifying. As in "making people stupid".
The challenge to write a critique short enough for MIT brass to read it, but long enough to not over-simplify the NGO, academic, and photojournalists genuine interests in doing a good one for the black man, is heinous. If you combine that with the demands to fruitfully examine my own self -interests, and the long, long term interests of the "subjects" in Africa, Asia, and Latin America, you wind up with a telanovella that lasts 8 seasons.
During the time that we've been talking about recycling in Asia and Africa,
the very music that people listen to has changed.
I'm still wondering where
the women of Soukous went
? There's not a single woman singer-icon from the 70-90s that I can think of (looked up
Tshala Muana
from a favorite playlist). Franco, Papa Wemba, Tabu Ley Rocherou, Prince Nico Mbarga, and dozens of other African MEN became famous. But half the music I loved then was sung by women. That's as interesting to me as what happened to the CRTs MIT tracked... one to a scrapyard in Pakistan, two to a multistory inner city refurbished goods store blocks away from a Pakistan university.
Human subjects should be
listened to
.

And that is what MIT did not do, nor BAN, nor PBS.
The entire "e-waste" debate has been nothing more than a vast experiment on human subjects, where speculation passes as data and anecdotes substitute for experience. MIT did not even check where all the devices went, they allowed BAN to impugn the entire "third world" as "primitive" and "child labor" and let an anecdotal broken LCD lamp stand for what happened to every LCD, CRT, and printer they tracked or didn't track. It is absolutely inexcusable for MIT to have associated itself with this propaganda campaign, and I expect someone to call me and ask me to come and make an alternative thesis presentation. Not because they are bad people. I'm sure the folks at MIT Senseable City Lab are as honest and caring as the friends at MIT who put me up for 2 weeks on a couch when I moved from Arkansas to Boston (the year I returned from 30 months is Africa).
It is taking me more than a year to write the report on Agbogbloshie because I have learned I have to really, really talk to people I am writing about.
I have to put down the work, let myself digest what I've written, and come back and edit it. And what I'm doing today is trying to unwind the anger I've found in my writing at people in America and Europe who really do care. They really seem to want more than a one-night-stand with the global south. They are like the Catholic and other missionaries we talked about in Africa in the 80s... really nice people who really mean well and who maybe really think that there is a "Heaven" and "Hell" Africans are headed to if not but for their white savior panty-waste moral lessons.
They are there for a moment that evokes compassion in a paying audience
Missionaries in Africa, we all figured, are primarily there to project what the Church is doing to the people in the pews in America and Europe. They spend very little in Africa, and don't harm anyone there. But for every 100 dollars raised passing the plate in America's churches, less than a dollar goes to help anyone in Africa. And that's the story here with environmentalism. Instead of talking about women's rights and mining roads that expose endangered species to bushmeat hunters, Basel Action Network wants us to track devices #FreeJoeBenson sells to electronics shops in Accra. Benson goes to jail, Cahal Milmo and Raphael Rowe get their names out in front to show their compassion to UK audiences, Lord Chris Smith gets to make speeches, NGOs raise funds. And they all like each other immensely. And I turn into this bitter little man who writes blogs about them, when I should be listening to this music. But every church needs a philosopher.
Primum Non Nocere dudes.
Primum non nocere!
*when I say "whites impugning other whites" it's intended as tongue in cheek, I don't actually know much about the race of academics, and it's certainly not the case of Raphael Rowe. But the can of worms of race-baiting was opened by the people who associate trade between "OECD" and "Non-OECD" with "primitive practices" and "child labor". I should probably have taken time to edit that out, but now someone's read it so I'll just footnote in post.


Wed, 01 Jun 2016 10:52:00 +0000

---
Right Wrong 3: MIT Senseable City Lab, ENGO, experiment on human subjects?
MIT Subjects Human Subject to Tracking Experiments without Prior Consent, Releases Tracking Data to Support False Claims by ENGO with Financial Incentive, Racially Profiles Non-White Material Handlers as "Child Laborers"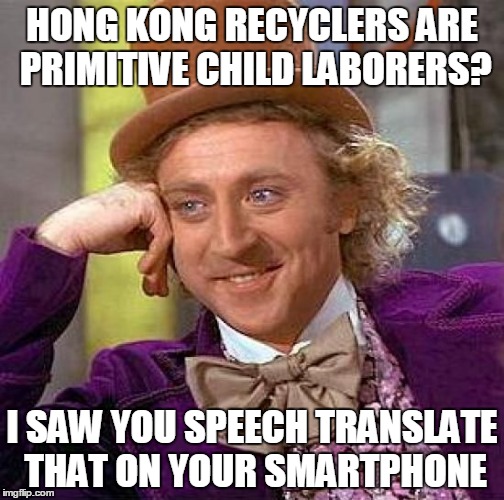 See, for a blogger, I'm a reasonable guy. If I released this blog under the
alternative
title above
, it could really offend some people - just as several test subjects in MIT's MoniTour and BAN's #trackingewaste have been offended. And rather than listen to the counter arguments we have been offering, it might lead Carlo Rotti to dismiss our comments as a case of personal interest rather than legitimate concerns about methods (hidden tracking devices) and interpretations of experimental results (transboundary movement).
Our audience consists of fair trade recyclers, and people open to trading with geeks of color.
Yes, we have a self interest
. And perhaps that's why MIT Senseable City Lab hasn't answered any of our critiques for a month.
My first instinct isn't always to calm down and assume the best about someone who impugns people based on nationality or race, but I've learned over the years to make a go of it. So let's consider why MIT SCL might avoid communicating with us - test subjects in their recycling experiment. Maybe it wouldn't have been proper research for MIT to engage with us from the beginning, and they can explain that's why they didn't need consent from the private company (not a public drop off) where they placed a printer with a tracking device in nearby Somerville.
But if that's the reason - that I have a financial interest in trade - that would cut both ways.
Isn't MIT's Partner, BAN, selling for financial consideration an E-steward certification, a self-defining anti-export regime, one that appeals to electronics recyclers who don't wish to trade or compete with exporters?

It turns out most universities have an independent office for questions about research ethics, and MIT is no exception.
The
MIT ETHICS DEPARTMENT
is there to help researchers vet these questions. Ideally, before research begins. Most certainly, before people are accused in the press of engaging in "child labor" or being "primitive" or "acting illegally", and certainly before you show those individuals homes, offices, and resale shops (in the case of Pakistan's Hafeez Center) as illegal child-labor incompetent scrap recyclers. At least, that's the case I'm trying to make.
Did MIT give a tool to an organization with a vested interest in defining "foreign" as "bad"?
If Senseable City Lab has disclosed this to their Ethics Department, they have nothing to worry about.
Supplement for Disclosure of Financial Interest.
Maybe there's a record of it... MIT Senseable City Lab may have filled out a form, protecting the Institute from such speculation.
Application for Approval to Use Humans as Experimental Test Subjects...
Yep, there's a form for that, too, at MIT. Would disclosing the tests to the recyclers - who manage tens of thousands of tons of the equipment each year - altered recyclers behavior? If so, then no recyclers should have been informed... but we know some were. Among those who knew - Total Reclaim of Seattle - we can see what I would have predicted. It's impossible to change your entire management of devices based on the knowledge that 200 items are being spread around recyclers across the country.
So it's unlikely that sharing information with us test subjects would have altered our behavior. But we could then have asked the questions I've posed to MIT. How are devices being "rendered unrepairable"? If they simply "cut a power cord", as BBC Panorama did to the TV sent to Hurricane Joe Benson, they'd have wasted their whole study (It takes about 2 minutes to repair that). We'd have advised them how to fairly distribute the items, and explained that if they truly want to predict a percentage of USA e-waste, they need to track a good number of large CRT televisions (which don't appear at all in the MoniTour study, though I'm told there was one tracked... which raises questions in itself). Focus groups with tests subjects could have rendered a better experiment, and might have led MIT to be careful in certain assumptions (like associating "Hong Kong" with "child labor")
In fact there is a whole slew of ways an MIT Research Lab protects itself from violating things like privacy rights, making public claims about illegal activity, and tracking techniques. From MIT's Online Ethics page:
Application for Approval to Use Humans as Experimental Subjects (exempt status form)

Download this form

May be appropriate for research in a category that is defined in Federal Guidelines as exempt from review, such as research:




on instructional strategies or techniques

involving tests, surveys, or observation of public behavior

involving the collection or study of existing data on consumer acceptance of food quality, taste, etc.

View the definition of

exempt status

to determine if the proposed research activities qualify for exempt review.




If you have questions about whether a study meets criteria for exempt status, contact the COUHES office

Application for Approval to Use Humans as Experimental Subjects (standard form)


Download this form


Required for all studies involving human subjects that do not qualify for exempt status as explained above.

Completion of this form also requires completion of the

Checklist for Standard Form Application


Continuing Review Questionnaire (CRQ)

Download this form


All studies approved by COUHES require continuing review

Approximately 60 days before approval expires, COUHES will send the Principal Investigator a Continuing Review Questionnaire (CRQ) that must be completed and returned to COUHES before the expiration date of the study
The specific printer in their study, the one I'm concerned about, was dropped off at a private office, sent to a private company, which processed it and sent it to another private company, which graded and exported it to another private company. The "public" exception does not apply. Still, maybe it was a good faith mistake by MIT (though it raised question, unanswered, about who distributed the tracked devices, and where, and how they selected those addresses or chose which devices to leave with whom).
I do feel MIT owes me acknowledgement it has received 3 or 4 emails and 2 hard copy letters, and a phone message. I explained in the letters that MIT's press release has the potential to seriously threaten livelihoods. For example, the R2 certification group, SERI, has released a statement
implying it shares the concerns of Basel Action Network).
For over a month, MIT Senseable City has had 12 pages of alternative hypotheses, questions, and corrections, and an offer to meet and discuss them. But we have not received a single email back or acknowledgment of receipt. If they need more time, it's not cool to not send an email requesting more time. I've given them time, and will continue, but today must start to air some of the questions.

Who were the testers (who planted the devices) and what did the testers have to gain from the experiment? Did they disclose potential financial interests in the outcomes? Would BAN have announced the results if 0/200 tracked devices had been exported?
What conclusions were drawn about the 65 devices which were exported, as opposed to those that were not?
An allegation of "child labor" was specifically made in regards to Hong Kong recycling. Is there evidence of "children" working at any recycling yard in Hong Kong during the past 20 years?
Why exactly did MIT obscure the destinations of printer scrap in Hong Kong, giving a message implying "government investigation", when the Hong Kong EPD said the printers were not listed wastes, and the frozen frames I took (above) showed the yards in proximity to licensed metal and plastic scrap yards listed on HK EPD website?
And if it is under investigation, why isn't the USA source "obscured" as well? Are you actually protecting a prosecutable case, or are you covering up that the goods were tracked to a legal facility, and protecting MIT from being sued by recyclers in the USA who legally shipped material to legal licensed facilities in Hong Kong?
Did MIT or BAN disclose the results with the test subjects?
If as MIT implies there's a illegal child labor and environmental pollution "discovered", there are forms for that, too.
Assent to Participate in Research (for minors)

Averse Event Reporting Form
These are just some of the questions we sent to MIT Senseabilty Lab, care of Carlo Rotti, over a month ago. We have had no response despite 3 follow ups (and a few blogs and tweets) At this point, we have done our part to presume honest intent. I will continue to keep these posts fact-based as much as I can. But tracking a shipment to a person in Africa and then announcing or implying that the person is engaged in "illegal activity" (something not defined here), with NO evidence that MIT contacted a single outside expert in Basel Convention, Basel "Ban Amendment", Hong Kong environmental law, WTO Cores Doha Round on refurbishing, etc., is a bit outrageous. There's absolutely NO sign in the report that MIT spoke to SERI, to EPA, to Secretariat of the Basel Convention, anyone other than Basel Action Network. Oh, exception - paying E-Stewards (Total Reclaim) were given advance access to the data prior to the release, and given a chance to prepare their responses. Chinese, Pakistani, or USA firms that don't contribute financially to BAN did not get that courtesy.
There are a number of fundamental Ethics Principles at MIT requiring researchers to vet projects like this. And since it could have repercussions on careers of the individuals involved at SCLab, I've held back in the blog until a month went by.
Oh sorry, did you think you hid this? Your partner continues to make information available to people who pay them money, and from those people, others can get the information. Check it out. How did I find this yard? What exactly is MIT's ethical decision behind obscuring the information from some peers and test subjects, but not from others?Is this yard legally taking spent CRTs? No. Is it legally taking bad LCDs? No. Can it manage Printers as scrap plastic and metal scrap? That's a rather specific question.
If MIT tracks 3 types of device, and finds that the least legal and most expensive to manage - CRTs - is the least exported, and the most legal and least expensive is the most exported, why does MIT believe this supports the allegations of a partner who openly solicits funding from test subjects?
Academics, here's a piece of advice...
When you go out into the press and make an announcement, with fanfare, you can't really get away with stonewalling afterwards. If the research is still under review, you don't really have to answer too many questions. But once you go on TV and radio and make CLAIMS about INDIVIDUALS who were NOT contacted in ANY WAY about the DATA you COLLECT from them, you are ETHICALLY and LEGALLY bound to ANSWER allegations of FALSE CLAIMS.
FALSE CLAIMS ACT is not just an academic issue, either.
Child Labor in Hong Kong, 1920
Below I'll present just 2 of the items that MIT has not responded to:
1) Specific claims about child labor
2) Generalization of data on printers (legal) and LCDs and CRTs (not legal), effectively taking data which was separate in the test and combining it with data to create a false alarm.
"Child Labor"is a rather specific claim, and quite a hot button. As soon as I read the words associated with Hong Kong, I knew there was a serious problem. I suspected that Carlo Ratti "drank the koolaid" BAN has been serving for 2 decades. And environmental professionals and researchers are not buying what he's helping BAN sell.
Children brought to work in Hong Kong from rural China was a documented problem - IN 1921
.
The regulations in Hong Kong were
beefed up again in 1968, when a regime of inspections, fines, and prosecution was implemented.
There are truancy officers. If MIT did find any evidence of child labor, it would be an illegal activity, and MIT Ethics Department would need to be immediately contacted to ensure that MIT did not engage in false claims or cover up evidence of crime. Perhaps MIT was relying on claims made by
Meagan Grau in 2005
, who issued a report that enrollment in high school was declining in correlation with the expansion of factories in Shenzhen. But Grau's conclusions are controversial, in part because the statistics (deliberately or otherwise) specifically include
"children" of 16 years
when right to employ begins at 15 years. The statistics are gathered from declines in High School enrollment, which can reasonably be linked to increases in jobs in Shenzhen - just as opening a new Toyota Factory in Alabama results in declines in Birmingham high schools.
When you are talking about a million people, you must disclose the percentage (15 year olds and 16 year olds) who you are counting as "child laborers" who would not be "child laborers" even in the USA. More importantly,
Leslie Chang (author of "Factory Girls" 2009)
and others followed up on the dire "child labor" claims of 2005 and found them to be vastly overstated... that's vastly overstated
in 2005, in mainland China OUTSIDE of Hong Kong
. How MIT and BAN make a specific claim of Child Labor in Hong Kong, and don't respond to our written questions and follow up questions, is also potentially subject to MIT ethical review.
The fallacy of combining data on legal employment (15-16 year olds) with illegal (0-14 year olds) is a matter of defining "child labor". No doubt Grau wishes more kids will go to school rather than postpone the diploma. The same fallacy is found in the second critique of MIT MoniTour SCL report.
Printer Scrap Isn't Classified as Haz Waste in Hong Kong.
Following up on enforcement of the case at Hong Kong Environmental Protection Department, we found a statement explaining that
printer scrap was not considered hazardous waste
(it's considered scrap metal and plastic) and that only LCD monitors (not LED), CRTs in MIT's Senseable City Lab test are being investigated for violation of Hong Kong Law. Most of the MIT Senseable City GPS devices tracked to Hong Kong from the East Coast were printers, and on BAN's web page, you see an enormous lot of segregated printer scrap in the scrapyard.
Perhaps MIT asked if the printer scrap could be managed as scrap metal. (There's a "
Translation Attestation Form"
they can show for the people they asked about it). But the report generalizes data about printer, LCD, and CRT scrap exports, and that actually requires MIT to take separate data and combine it, perhaps altering the press' impression of the findings.
In our correspondence with MIT, we focused on the printer - by far the largest group of tracked items sent from USA to Hong Kong - which MIT and BAN represented to be illegal or associated with "child labor" or "illegal activity". We asked MIT
why printers be segregated by the USA recyclers and the Hong Kong recyclers
?
If you are researching a mix of e-Waste and a general allegation of "all too often" mismanagement, why would you find a cluster of one particular type of material? Clearly the photos show this isn't random. But MIT Senseable City Lab apparently didn't ask any expert to explain why
this
material would be outside, why
this
material would be imported in higher percentage than any other material, why
this printer material
would escape customs scrutiny when CRTs are routinely caught. BAN alleges that Hong Kong customs did not do its job and that the material was smuggled in... but what we see is the opposite - rejections and enforcement by Hong Kong Customs on containerloads of CRTs, but not on printer scrap.
Why? Perhaps because
Hong Kong follows the BASEL CONVENTION.
Ever hear of that? The Basel Convention?
It's online
.
Annex IX has an "A List" of known wastes (presumed hazardous and under trans-boundary control - just the movement of it over the border is presumed to be export crime) and a "B List" of allowed exports (presumed non-hazardous so long as the material isn't released into the environment). Among letters to the Secretariat, praising or scolding this legal distinction, are letters signed by Jim Puckett of BAN.org, who admonished the Secretariat and voters for creating what he thinks are "loopholes" under Annex IX, B1100. Puckett claims that the Basel Ban Amendment - the amendment to CHANGE these rules - is necessary, but knows it is not enacted. It's not surprising that BAN omits this, or that PBS doesn't catch the distinction. But MIT? Did they simply not ask anybody but the group which sent the letter of protest against repair and circuit board legal export?
Hong Kong EDP is somehow portrayed as needing White Savior
to help them with the e-waste problem, but our review of
the Hong Kong EPD website
shows one of the most sophisticated systems for tracking waste (Hong Kong itself, with 7M residents, is one of the highest generators of E-Waste per capita in the world).
The lists of Hong Kong's regulated hazardous ("Chemical Waste") recyclers include permitted collectors and processors of
asbestos,
poisons and pharmaceuticals,
Earth material containing heavy metals and mineral oils,
general chemical waste,
paint waste,
photofinishing waste,
sludge or resin containing heavy metal/solvents,
spent CRTs,
spent copper etchant,
spent dangerous goods (e.g. drums),
spent fluid pholychorinated biphenyls,
spent halogenated organic solvents and compounds,
spent LCDs,
spent lubricating oil bottle/filter,
spent mercury lamp waste,
spent non-halogenated organic solvents/compounds,
spent plating solutions,
tannery offcut waste (chromium),
waste batteries from electric vehicles,
waste batteries (separate list),
waste lubircating oil/mineral oil,
waste mineral oil from vessels (MARPOL oily waste),
waste mineral oils mixture from petrol interceptor in bulk using tankers,
waste transformer oil not containing PCB
EACH of those categories has an entire LIST of permitted recyclers. The Hong Kong EPD is nobody's fool, they have oils and batteries split out by recovery processes and capture methods.
PRINTERS, Hong Kong EPD explicitly announced are NOT covered waste. They are, per Basel Convention Annex IX B, scrap metal - legal plastic and legal circuit board scrap metal.
Imagine if there were two gigantic world class e-Scrap factories being built in Hong Kong, to meet multimillion dollar recycled content demand for OEMs who have responded to "takeback" and "circular economy" demands, and they wanted to keep some material outside, approved by their Hong Kong government and certification body, as construction took place. They couldn't put the CRTs outside, and they couldn't keep the LCDs, or any of the listed wastes outside. But they could treat printers separately, and do so legally. Sound far fetched? Keep reading.
R2 and E-Stewards Certifications both have a right to treat toner and circuit boards as "focus materials", which they've done to address things like BAN's objections to Basel Convention Annex IX or their presumed objections to Hong Kong EPD rules. I'm certain my company is removing toner and ink cartridges, because the volume of those we remove and ship corresponds to the amount of printer scrap we managed. A staff could miss one, and could get fired for not removing them, but we are pretty confident.
We provided to MIT Senseability Lab, a month ago, an explicit and legal basis for how a printer could be shipped to Hong Kong as undetermined (potentially repairable) material or as determined scrap (sold for plastic and metal disassembly). We provided 2 certified companies, Top Faith and Li Tong Group, which were R2 Certified for that material.
In fact, Hong Kong IS in the process of investing in a circular economy, to make the top eschelon E-Scrap recycling operation in the world.
This white paper makes clear that Hong Kong EPA considers printers "non-chemical waste" and does not regulate them as they do CRTs, LCDs and batteries. And here is the legislation that finances the projects.
That opens a number of legitimate possible explanations for the pile of sorted printer scrap
(which does not contain LCDs or CRTs) in the photo, and also suggest why MIT would not find random material shipped to Hong Kong (no CRTs in proportion to printer scrap), something MIT should have stated as a "finding" in my opinion. If you have groups showing that CRTs you tracked are extremely unlikely to be shipped to Hong Kong, and that printers are X% more likely, is it ethical to combine separated data and then state that "E-Waste" is likely to be exported? If so, maybe you better read what I sent you about Hong Kong
printer scrap
. BAN actually implies in one of its speculations that the printer is emptied from containers, put on the ground in Hong Kong, to be reloaded into sea containers again and shipped to mainland China.
What? Wha..? Huh? That's a "finding"?



Given the headline:
HONG KONG RECYCLERS IDENTIFIED PRINTER SCRAP AS THEIR BEST LEGAL ENTRY INTO WORLD E-SCRAP PROCESSING. Banning them from doing that based on their race, language, or other stereotype (like "employers of child labor") is not part of the Basel Convention. It is disgusting that MIT stoops to the circular reasoning that because a device is exported, that it was mismanaged, because exported devices are mismanaged.

The Ayatolla of E-Waste has claimed another victim. Like CBS, PBS, The Atlantic, NPR, Guardian, Economist, etc., MIT accepted that longitude and lattitude pass as proof of racist doctrine.
Isn't it possible MIT should have asked someone in the business, rather than state they had discovered "previously unknown" destinations? The only thing "previously unknown" are specific private contracts between private parties. MIT's own press release implies that a company which shipped did something wrong - at the same time as the biggest headlines of the year are about Hong Kong E-Scrap factory openings!
Original Electronics Manufacturers in Shenzhen, such as Acer and Wistron, have announced goals for recycled plastic content in their electronics, and my company has seen electronics plastic in continued high demand, despite low petroleum prices and despite "green fence" restrictions on contamination. The recycled plastic content goals are difficult to achieve.
Here is our downstream
(according to our pre-audit paperwork), before their expansion (2012 ShanghaiScrap.com). A very large, clean facility, but not
TO ACHIEVE THEM, Li Tong Group has raised $45 million US capital investment
to build a state of the art high tech e-waste processing plant. Li Tong Group has achieved R2 certification. Our downstream diligence did not approved LTG for CRTs or LCDs (for the reasons identified above).
An even
larger Investment for the EcoPark in Tuen Mun
(New Territories Hong Kong) broke ground this year, constructed by
German firm ALBA.
Given the relatively gigantic fanfare around these two major Hong Kong e-Waste investments, shared with MIT, and the photos of the inside of Li Tong Group in 2012 (before the expansion), and given the obvious sorting of printers, and the lack of any evidence of any mixed stream recycling exports to Hong Kong from the Northeast, it seems disturbingly possible that MIT Senseable City Lab has engaged in violations of the False Claims Act. It seems imperative that MIT Senseable City Lab seek review rules for "Consent to Participate in an Interview"
http://couhes.

mit

.edu/forms-templates
which delves into RFID and other tracking technology.
We provided MIT Senseable City Lab
with links to the ACLU's position on tracking devices without consent, and implications of privacy rights.
I called MIT Senseable City Lab yesterday, and was told to send a 4th follow up email. I did, and did not get any response.
I'm still hopeful these people are going to show the academic rigor to meet with me and representatives of Fair Trade Recycling and learn about the potential for legal scrap recycling and processing in emerging markets, the merits of using high tech recyclers close to demand for rigid plastics, the false assumptions that printers shredded in the USA do not afterwards get sent to China for hand sorting, and the number of experts (Josh Lepawsky, Josh Goldstein, Ramzy Kahhat, Reed Miller) who have researched trans boundary movement of scrap and who could have assisted MIT in selecting a partner who doesn't make FALSE CLAIMS about child labor and illegality of printer scrap export.
MIT MoniTour Page claims "previously unknown" and "most often illegal". But most of the exports were legal printer scrap, and almost all of the illegal samples (CRTs) were not exported, and none of it was "previously unknown" except - by virtue of privacy - to MIT. Did MIT actually interview any experts, or just take BAN's word for all this?


Sat, 28 May 2016 02:28:00 +0000

---
What NGOs Got Right, Got Wrong About E-Waste Exports: Part 1
It is challenging to take 10 years of blogs about ethical recycling, many written in passion, often written in haste, and channel a message which is nuanced, and not just to be brushed away as "denial". I come from the same generation, post hippy, late 70s early 80s protester. I shared the same deep sense of alarm from Jacques Cousteau, Jane Goodall, Rachael Carlson, etc., about the population bomb, and the finite nature of world resources. We read Amory Lovins, Barry Commoner. Jim Puckett, Barbara Kyle, Ted Smith, Shena Davis, and so many others in our 50s and early 60s grew up with the same
Siddhartha Gita Vedanta Black Elk Speaks
mantras, and spreading like 1860s prospectors to save parts of the world, we sharpened our arrows and powdered our muskets.
The General Mining Act of 1872 was my target. I hand wrote letters to my Arkansas Senators, Bumpers and Pryor, in 1980, telling them it was unfair to unborn generations to subsidize the pollution of hard rock mining. The EPA's Clean Water Act and Clean Air Act were focused like a laser on nonferrous smelters, hitting recycled and secondary smelters hardest (not precisely the same thing btw) but also affecting primary mining and smelting. The most polluting industry was the first to move offshore, and I shared the alarm of my fellow environmentalists in our 20s and 30s over "externalizing" pollution.
World's 10 Fastest Growing Copper Mining Projects
(mining.com)
Copper, Lead, Silver, Tin and Gold mining in places like Borneo, Papua New Guinea, Zambia and Peru seemed like an end-run around our generation's attempt to clean up America's virgin mining to throwaway culture. And the places where those industries moved to were in many ways a social nightmare. Idi Amin, Mobutu Seko Sede, and dozens of other dictators pocketed "registration fees" for these mines and set up foreign bank accounts, giving rise to the alarms of "Resource Curse".
We were alarmed by the same things. We protested the same things. And Africa's "
mining map
" is growing.
Harry Wu recently passed away.
It was thanks to Wu that Americans and Europeans knew about Maos "cultural revolution", which arrested academics for as little as rolling their eyes at Communist Party rallies. Harry Wu taught us, in the late 1980s, that cheap Chinese toys and tools were often products of slave labor. We learned about death squads in El Salvador, USA puppet governments like Allende's in Chile. Globalism was happening, it seemed, for all the wrong reasons.
So what happened. How did I become what Jim Puckett calls "the biggest thorn" in his side? We shared so many of the same experiences and same premises.
This is an opening blog to explain what happened, and what BAN and other protest-and-alarm-fueled NGOs have correctly and what they are blind to. I went to live in Africa for 30 months in the 1980s, and it changed me forever. But what changed me isn't well represented by poor African children, or poor Chinese children, or halloween language of "e-waste hell" and "child labor" and "shantytown" and "rice paddy" images. What changed me are individual people, individual friends, individual rivals, individual students.
Do the actual people in emerging markets serve as nothing more than the NGO's wallpaper? What divides Fair Trade Recycling from the traditional anti-globalist NGOs of the early 80s is Q-method. We talk to people overseas. We get translators, we visit, and we listen. So we were the first to find out that one NGO in particular was blatantly falsifying data, to the point where it merits a defamation lawsuit. I loved, adored my family in the Ozarks, but racism is a bridge too far.
Fear of others.
Exoticism.
Poverty porn.
The tactic of scare-mongering is everywhere, and journalists are in on it. It is easier to make a story exciting and alarming than it is to actually inform. It's not the datajournalism, it's the photography. It's not the steak, it's the sizzle. If it bleeds, it leads. Journalists and NGOs share the same great and noble mantras of the 1960s and 70s that I do. They want to save the planet, and basically do what an older generation referred to as "earn their place in heaven". We didn't call it "to sit beside and hold the hand of Jesus", our reward was more nirvana, more transcendant.
But like the pitfalls of the snake handlers in the Ozarks, we took ourselves too seriously and stopped measuring.
Time to watch again the Hans Rosling TED Talks
. Faith is gravity, but truth is light. We share the purpose, the gravity, the traction of making the world better for current and future generations. But Basel Action Network has been selling a product that doesn't work in the low low light of ignorance, and when they are confronted with data and information, they have begun shooting in the dark.
Part II: What they got right


Fri, 27 May 2016 12:59:00 +0000

---
MIT Ethics
It's approaching ten days since I contacted MIT Senseable City Lab.
http://couhes.mit.edu/definitions#Exempt%20status


Wed, 25 May 2016 01:47:00 +0000

---
#Ewastetracking Project by MIT and NGO Discovers Analog Television (exists) in Pakistan
A joint project between the Basel Action Network (BAN) and the MIT Senseable City Lab has led to the discovery of previously unknown international electronic waste routes departing from the United States.

Printer, and LCD and CRT monitors were embedded with GPS trackers capable of remotely reporting their location from overseas locations. These trackers were then delivered to recyclers and charities around the country. 65 of the first 200 trackers deilvered as part of the Monitour/e-Trash Transparency Project went offshore, mostly to Asia.
On-the-ground investigations in Asia by BAN produced a clearer picture of these trade routes. Results of this study can be found here on this site in graphic form and will also be released in a series of reports by BAN. These can be found at:

www.ban.org/trash-transparency.
While legitimate e-waste recycling helps reduce landfill contamination and raw material extraction, the export of hazardous electronic waste is most often illegal trade under the Basel Convention and moreover, the management of toxic electronic waste in the informal sector damages human health and the environment.
The Monitour/e-Trash Transparency Project demonstrates how relatively new technology can generate unique data needed by civil society, law enforcement and enterprises to better track what until now have been hidden flows.

Since the time of our experiment, the UN Organization on Drugs and Crime has confirmed that the Mong Cai border is a primary corridor for e-waste flowing from the US and EU into China, part of an estimated US $3.75 billion market for illegal e-waste.
Learn more about e-waste tracking here:

Video.
"On the ground investigations in Asia by BAN produced a clearer picture of these trade routes." Really, MIT? Just how clear? Analog or high definition? Seriously, this is from Media Lab of all places?
As I showed last week, the screen shots of the MIT's tracking project are difficult to see at proper resolution; you can't zoom in. Instead, you must copy the longitude and latitude and paste it into google maps, or rely on whoever is writing written descriptions of the sites on MIT's website.
Then you find places like the Hafeez Computer Center in Faisalabad, Pakistan. It's near the center of a dense city, blocks away from one of Pakistan's largest universities. It is a long way from the port. Screenshot below.
We are writing to MIT to offer to assist them in interpreting several tracking devices locations. In particular, I'm focusing on CRT devices, which are governed by USA EPA law. That law does not ban export for reuse, or even export for recycling, but requires that export to be declared and investigated by EPA prior to export.
The reason for EPA's restrictions stem largely from the Basel Action Network (MIT's "joint partner") declarations in 2002 and 2005 that the "vast majority" of CRTs are not recycled, but are dumped overseas to avoid high USA recycling costs. Overseas, BAN announced, the CRTs were most likely going to be beaten by children with hammers to remove "valuable copper". It is certainly true that CRTs are the most expensive type of electronic waste to recycle, and it's true that any which are diverted for continued use represent an avoided fee. It's also true that working display devices have been in high demand for reuse and repair markets. Billions of people owe their "teledensity" (mass media, internet, etc.) to used and rebuilt CRTs sourced from wealthy nations.
Probably no one has investigated those claims about CRT exports more than I have, so I'm offering to meet with MIT to help them interpret this movement. Here by way of introduction is Muhammad Madni, of Islamia University in Punjab, describing one of the biggest sellers - the DANY TV DEVICE.
Sales of DANYs are in the millions. I was given one as a gift in 2007 by Hamdy Mousa of Medicom. He imported CRT monitors to Egypt (before used displays were made illegal under Mubarak's "put the internet genie back in the dang bottle e-waste policy). The device allows the owner of a CRT or LCD monitor to receive analog or digital TV tower broadcasts, effectively doubling their computer display to watch cricket games, world cup matches, BBC, Al Jazeera, etc.
The fascinating thing is, you can do anything you want, pull any wire, damage the power supply, anything short of damaging the vacuum on the CRT tube, and a decent TV repair technician with one of these devices can turn the CRT into a television. The converters are made by the same factory that made USA's analog-to-HD converter boxes of the late 1990s-early 2000s, and the amazing thing is that they can translate ANY analog into digital. The ideal CRT for digital display is the computer monitor, it has a superior resolution rate to brand new CRTs made for analog television. But as technician Madni explains above, any LCD with a good screen can also be turned into a laptop television using a DANY.
20 years ago, most of the demand associated with DANY converter technology was associated with CRTs. Now they are mostly associated with used laptop and LCD sales. It's not a huge surprise that of the 75 exported CRT monitors, that they'd be found in one of the highest purchasing areas for DANY TV devices. Are the DANYs being exported as "e-waste"? Of course not, they are sold brand new in box, and sold among other places at the HAFEEZ Electronics bazaar in Faisalabad.
The first thing one notices (if one has an open mind about trade of used electronics) is that the exports of CRT monitors cluster in two locations - Punjab Pakistan and Foshan, China.
Two of the 8 CRT devices that left North America apparently went to Hafeez Electronics, which sells DANY devices for 1000 PK rupees... about $10. For 10 more dollars, you can buy a used CRT monitor at Hafeez, and you now have television. Buy a desktop for $40 more, and you have Pakistan and India's "Triple Play", computer, internet, and skype.
I don't know which is more shocking, that after 2 decades of DANY converter sales, that Americans still don't know about the TV converter market, or that MIT in particular would associate itself with an NGO which describes graduates of Pakistani universities as "primitives" and "child labor".
This TV-CRT business is way smaller than it was when I was in Egypt nine years ago. And because it's smaller, the purchase orders for used CRTs are drying up. Of 75 tracking devices placed in CRT monitors, 8 moved outside of north America. That's a strikingly small number to represent avoided disposal costs as a driver, or to demonstrate BAN's statement that certifications don't work and new laws are required to stop the transport.
But while it's difficult to "zoom in" on MIT's site, and tempting to rely on the descriptions in the top right corner, I can tell you that those descriptions are written by a hostile and possibly bigoted person.
I don't really have time to describe Foshan, where I have also sold CRT monitors a decade ago, but it's not far from where DANY TVs are made
6F E building, Huafeng industry Hangcheng Road, Xixing Town, Baoan District, Shenzhen, China
And Foshan is a really, really, really interesting place. I haven't been there in a decade (though I flew over last month, having gone over the north pole in a Chinese airline flight from JFK to Hong Kong to Taipei). But this again shows that MIT is taking its cues from people who don't know what they are talking about and are making it up as they go along, and PBS is taking MIT's credibility to accept Basel Action Networks bigoted portrayal of geeks of color like Muhammad Madni. Madni hasn't posted on Google Plus since September 2014. I hope he's ok. When your coordinates are posted on the web, and MIT and BAN say you are engaged in criminal activities, you may not be ok for long.


Wed, 18 May 2016 14:16:00 +0000

---
How Little We Recyclers Even Care What Happens
Wow. What a powerful emotional connection - to no one. Because embargoing trade proves how much you care. Don't exchange with anyone, Bodhisattva. I thought I'd share the opening salvo of logic from KCTS9's "The Circuit: Tracking America's Electronic Waste".
Sure. If I send work to the
Chicas Bravas Womens Co-op at Retroworks de Mexico
, the fact that the electronics crossed the border means I don't care about them. I don't care about the people I send my children to visit, I don't care about the people whose godson comes live with me for a year.
I don't care about the former Attorney General from Burkina Faso, who I housed for months while a contract was put on his life by President Blaise Compere. I don't care about the
Egyptians
, who hosted my family and stayed at my house, because I sold them computers. I must not care about the investors who are trying to build a
$45M state of the art printer recycling factory in Hong Kong
, to supply Apple, Sony, and LG with recycled content for new devices. I surely don't care about the
technicians in Ghana
who fed and housed me for 3 weeks, or the
scrap men at Agbogbloshie
who still WhatsApp or call me once a week.
I must not care about the hundreds of workers who were losing their jobs at
CRT manufacturing plants
in China, Indonesia, Malaysia, Pakistan and Thailand, when equipment manufacturers stopped ordering new CRTs be made. I don't care, because I helped them find thousands and thousands of CRTs, used only 4 years of their 20 year life, which they remanufactured to make affordable displays for millions of people in emerging markets.
We sponsor travel for interns from Bangladesh, Canada, France, Mexico and the Netherlands to visit our partners and study Fair Trade Recycling, so they can research and advise us how to care even less about... people like us.
We don't care about them because we provide them the only possible internet, teledensity, phones, etc. that they can afford. We film interviewed every technician we sold to in Senegal because we just didn't care.
I sure don't care about Yadji, or Jinex, or Su Fung, or Liu, or Vicki, or Rudi, or Wahab, or Hamdi...
I don't care about Hurricane Joe Benson. I don't care about Las Chicas Bravas.
That's it Jim. If I really cared about those people, I wouldn't destroy 90% of the used electronics my company receives. If I really care about these people, I'd shred 100% of it, put it all in the shredder, and not trade with any of them. If I had cared enough, I never would have even met them or eaten with them or learned their names. My kids wouldn't be translating for them. They wouldn't be making a living setting up reuse shops and recycling facilities, and I could maybe find a job like yours, asking for donations to pose smugly and impugn other people, show piles of garbage in Hong Kong and Agbogbloshie and never tell anyone how many people in those countries owned TVs and electronics 35 years ago, never explain that they have electricity and traffic jams and produce the same waste Americans do. I'd make my money from getting paid by people to say they are good because they throw that laser printer that Essam and Muhammed fixed right in the shredder, turned into little pieces... to be sorted at workers tables in China.
Instead of selecting the devices they say their market wants and are easiest to fix, we should insist they buy things they don't want, and can't afford.
That's how we show we care - not by portraying these colleagues as engineers, valedictorians and geniuses, but as child workers, primitives, hopeless third world victims who stupidly use their own money to buy millions of dollars of America's used electronics. And used shirts, and used shoes. Hey, you should go after Goodwill and Salvation Army and St. Vincent de Paul and Planet Aid - if you put tracking devices on their donations, you'll find they don't care either. Oh yeah, been there, done that, right.
It's not just the disagreement in policy that bothers me about this NGO. It's not just their use of childrens photos to raise millions of dollars, none of which goes to anyone in the country photographed (though that does irk). It's not all about the misattribution of point source pollution, or the false descriptions of Basel Convention language.
You describe us all so well.
Primitives.
Uncaring.
And you describe me to young people at colleges, and to garden clubs, and to journalists as just an exporter, insane, crazy, obsessed, profiteering, lying... You're absolutely right, White Savior.
If we had really cared enough, 3 billion people earning $3,000 per year would have gotten on the internet and access to mass media by buying brand new electronics. Yep.
Checkyourprivilege dude.


Sat, 14 May 2016 00:00:00 +0000

---
Save The American Children! Shocking Expose on USA's Car Repair Market
Just sayin'...
The point is obviously that:
1. Abandoned or slow moving "waste" is more persistent and easily photographed
2. Manufactured goods kept for part sales is different from shredding, different business
3. Sometimes business owners die or get in trouble or screw up
4. Outliers in an industry should not be used by photojournalists to racially profile geographies
5. No one knows, really, what's going on without data journalism.
Hopefully Germans don't see this video and decide to boycott car sales to Florida. Fortunately, there are no brown children close up photos to trigger an NGO fundraising campaign.
Kudos to
Youtuber Abandoned2016
for having an apparent sense of humor and perspective. (and decent musical taste)...
Hopefully very few of the cars in this video have a CRT television stashed in the trunk (an actual activity I witnessed in NJ over a decade ago by a "CRT recycling" company... they were stashing CRT TVs in cars sent to an auto shredder. True).
Afraid I'm being rather facetious again. But finding a yard like this one in Hong Kong would not make me boycott Hong Kong or assume I should stop selling steel scrap there.
Here is the equivalent scrap, in printers, for those who don't understand the e-scrap biz (some closed auction sales on dot matrix printers in the past 3 months, $200-800 range).


Thu, 12 May 2016 12:11:00 +0000