The "Good Point" blog is about "Ethical Electronics Exports, Fair Trade Recycling". Composed by Robin Ingenthron, founder of Good Point Recycling and the WR3A non-profit, the site discloses the company's position, policies, as well as the personal opinions of its founder. It has become an important source of inside information on the "e-waste recycling" business for academic research into recycling policy. The website invites dialogue, promotes discourse, and twitters recycling policy forward, using humor, music, and mind-bending analogies to convey important issues.

The recycling industry has been accused of misleading consumers. Ingenthron hopes that a "warts and all" blog which fully discloses the company's opinions and practices will temper cyncicism about green businesses. Frequently cited by the recycling trade press, the Vermont blog has been labeled "bracingly honest", a "creative approach", and a "refreshing" break from recycling dogmas.

To add our blog to your own RSS Feeds, paste this link: http://feeds.feedburner.com/blogspot/GQskD

As a passionate defender of "fair trade", Ingenthron writes, "Our company's first motto was that we are who we say we are, and we do what we say we do, which is kind of a sad commentary on the e-waste recycling industry." He hopes that in the future, people can once again take that for granted.

Meanwhile, a growing number of academics, entrepreneurs, and government recycling coordinators use the SEARCH function on the blog to mine answers to specific questions. They find external links to film of operations overseas, data on the company's Mexico operations, export policies, its domestic recycling capacity, hard drive data management, and more. The Good Point blog offers insights into positions staked out by EPA, ISRI, NRC, NGOs, and International institutions on mining, disposal, and recycling alternatives. Perhaps our most important followers are overseas.

Before creating American Retroworks Inc. and WR3A.org, Robin Ingenthron was Recycling Director at Massachusetts Department of Environmental Protection. His division implemented the first CRT "waste ban" regulations, the first market research on CRT reuse and recycling, and the first state RFP contract for municipal "ewaste" recycling (a state contract is enforceable by the Attorney General, giving it more teeth than a "Pledge" or "Certification").

Ingenthron has a BA in International Relations from Carleton College, and spent a semester at the UN in Geneva. With the US Peace Corps, he trained in Congo and taught school in Cameroon. He was hired by Peace Corps to stay in country as a "cross cultural trainer" before returning for an MBA Peace Corps scholarship at Boston University. He worked as a consultant for operating systems software industry, and as a co-director of two recycling non-profit organizations.

Good Point Recycling is a member of Vermont Businesses For Social Responsibility, Association of Vermont Recyclers, and the World Reuse, Repair and Recycling Association [WR3A] an organization which establishes "Fair Trade" standards for surplus electronics exports, ensuring no "toxics along for the ride".


Latest Top (10) News
---
BREAKING: Lord Chris Smith's African Witch Hunt Continues: Part 1
UNEP doubled down
, using photos of "primitive recycling" in its 2015 report on "e-waste". But the actual statistics hidden throughout UNEP's own report told a different story from it's press release headline. If the majority of sea containers of used electronics shipped from Europe are "illegal", then why do the seizures of hundreds of containers only find 1/3 which had anything illegal?
One nation abandoned nuance with flair 5 years ago. While Agbo workers burn wire, England is burning witches.
The photo above shows Mike Anane of Ghana briefing reporter Raphael Rowe of BBC Panorama, on the ground in Agbogbloshie, Ghana. Mr. Anane was back at Agbogbloshie 2 days before my arrival in March... briefing Jacopo Ottaviana of Aljazeera's #ewasterepublic... see below.
http://tegenlicht.vpro.nl/biografieen/a/mike-anane.html
PRISON FOR DANIELS RECYCLING?
Anane's accounts to journalists were covered on this blog a few days ago. I met him face to face at an Interopol Meeting in Washington DC in 2010, where he presented between UK Environmental Agency Director Lord Chris Smith and Jim Puckett of BAN. You know the claims... 80% dumping. 500 sea containers per month arriving at Agbogbloshie. The biggest E-Waste Dump in the World. Teeming with fish, Anane recounted, just 10 years earlier.
This was the meeting that set Lord Chris Smith up against Hurricane Benson. And this week,
LetsRecycle.com, a British environmental online newsletter, reports that "Hurricane Joe Benson" has company.
MORE AFRICAN TECHS FOR UK JAILS

More African Techs for UK jails.
Ezenwa Ogbonnaya faces sentencing in a few months, and the daughter of Mark Daniels (who says she moved to UK from Africa at age 16) says her parents were railroaded in the same way as Benson...
by Bullyboys
.
The company and its directors, Mark Daniels, (51, of Reynolds Street, Warrington) and Lynn Gallop, (52, of the same address) pleaded guilty to shipping the containers illegally. Mark Daniels was given a 9-month custodial sentence suspended for two years and ordered to pay £50,000 Proceeds of Crime Act (POCA) and a £20,000 contribution to costs. Daniels Recycling Ltd was fined a total of £25,000 (£5k per offence pleaded to). Lynn Gallop was fined £450, with £25,000 POCA and a contribution to costs of £10,000.
Ezenwa Ogbonnaya and M2 Ventures Limited also pleaded guilty to exporting 6 of the containers, having bought the waste from Daniels Recycling. Sentencing of Mr Ogbonnaya and his company has been adjourned to March 2016.
Despite pleading guilty to the offences, Mr Daniels and Mrs Gallop have maintained that activities at the Warrington site are carried out legally. The couple also claimed to have taken the plea after having been told that further legal action may follow last week's trial. The statement said: "After five years of fighting, hell and stress; we pleaded guilty to a crime we feel we did not commit just to make it go away.
"We feel we were bullied and threatened by the EA for the last five years, to the point where we could not take it anymore.
Having spent much of the past 6 months writing a 100 page report on WR3A's investigation of Tech Sector Imports to Ghana, I'm much more confident than I was when I first heard about these cases, timidly meeting Joe Benson in 2013.
The BBC Panorama and Sky News reports fawned over Mike Anane, who told them the Odaw River was teeming with fish, and that 500 containerloads per month were dumped among 87 scrap workers - most of whom hammered apart cars. Millions of tons per year, etc. I've now offered $1000 cash to anyone who can give me a single photo of a single sea container dumped in Agbogbloshie, or other proof to back up Anane's claims that 80% of used goods imported to Ghana are dumped there.
What about the 1/3 of the containers in EU found to have something illegal?

From Ghana's perspective, what was illegal in the sea container shipments was refrigerators and air conditioners.
No,
not
because they weren't working, and
not
because of freon. The Ghana customs agents we interviewed in Accra and Tema explained that Ghana has an electricity shortage, rolling blackouts. As a conservation measure, the Ghana authorities offer "buy back", a kind of "cash for clunkers" program to get older fridges out of circulation. It had nothing at all to do with flogging Agbogbloshie.
Here's the chart again. While Raphael Rowe was interviewing Anane, the actual containerloads were actually being inspected and assessed, the same year Hurricane Benson, Daniels and Gallop, and Ogbannaya are accused of dumping!
THEIR loads were in the sample below!!!
In Ghana, there really was no sense of "racism" or "profiling" or "accidental racism" in the enforcement of rules at customs. Every single load arriving in Ghana is unpacked inside a walled government-controlled customs facility, where guards with clipboards inspect EVERYTHING.
We did take the customs officials on one trip to Agbogbloshie scrap yard with us. In heels and nice suits, the officials looked awkward on the smoldering landscape, beside Accra's teeming slum. They told us nothing they were looking at - 30 year old VCRs, 150 lb. 1970s analog CRTs, etc. - would be allowed out of the port. But when asked about enforcement, they shrugged. They never see old stuff like this because no one would pay to bring it into Ghana.
The INTERPOL CWIT Report was shorter and more direct than the UNEP Report that preceded it. As they explained in my personal meeting in Lyon, they'd found no evidence at all of the "80% dumping" of e-waste, they'd found the contrary. They found mismanagement of material in Europe, and people quarreling over planned obsolescence and strategic metals. We hope the report is read to say "fund Rhino horn protection, fund illegal deforestation, fund coral reef protection, fund giant tortoise and shark fin and whale hunt enforcement, help us close the ivory trade". They seem to have found "e-waste" was not "Trafigura".
Tens of thousands of people plead guilty to crimes they did not commit
.
To be continued....


Wed, 25 Nov 2015 16:15:00 +0000

---
Latest Pics of Kids at Dumps - #TakingTuesday #FloggingAgbogbloshie
Pics of Kids at Dumps - The Gift that Keeps on Taking.
See today's solicitation from our friends at Basel Action Network, photo of scrapper at Agbogbloshie. It implies your donation for #GivingTuesday will benefit "Children aged 11-18" scavenging at dumps to earn $1-3 per day. Another waste NGO flogging Agbogbloshie.
Ages 11-18?? B******t.
See Journal of Health,

Exploratory Health Assessment of Chemical Exposures at E-Waste Recycling and Scrapyard Facility in Ghana

(

Jack

Caravanos

,

DrPH, CIH

;

Edith E.

Clarke

,

DrPH, MPH

;

Carl S.

Osei

,

MD, MPH

;

Yaw

Amoyaw-Osei)
Demographic Characteristics

: "The ages of the 87 e-waste exposed subjects from Agbogbloshie ranged from 15 to 73 years. The mean age was 32 years with a standard deviation of 5.6..."

Mean age 32. Median age of 25.5 years. That's not "child labor". The mean age of women giving
childbirth
in Ghana is 22.2 years, for crying out loud. The employment data at the recycling yard shows far less child labor than agriculture sector, in fact it's above average for workforce in Accra.
Remember, this is from the organization that "
never, ever stated" 80%
of used electronics were dumped. They are shameless in their "data" when it's used to solicit donations. They have a view of math, as something that your wishes and intentions give you mysterious powers over. And it's full of accidental racism, bigotry, povertyporn, and profiling. Yuck.
The art of making up very specific, scientificky sounding stats and numbers is bad for environmentalism and development. But you know what's REALLY offensive to the workers in Agbogbloshie (who I'm still in touch with every week)? That they are raising money with
POSTER CHILDREN
and they
do not share one penny with anyone whose photos they use.
NONE. I think this qualifies for worst non-profit EVER. They can't even do #PovertyPorn right.
Welcome to #TakingTuesday
Shame on you, Basel Action Network.
On #GivingTuesday I'm glad to give this NGO a piece of my mind.
If you are going to use pictures of kids in wheelchairs to raise money, dammit, you've got to spend at least SOME of the money on people in wheelchairs.
This whole "wire burning" crime thing is just so stupid. Look at the TV on the kid's head, I've previously pointed out that's a 1970s Magnavox like the one on the album cover of Prince Nico Mbarga (see
Halloween Images of Scary Black People
e-waste blog).
Fair Trade Recycling doesn't beg for funds with pics of kids at dumps.
WR3A builds around the Geeks, the tech sector, repair and refurbishing. Those were the "valedictorians" in the African classes I taught. The scrappers are the opposite, tend to have little schooling, often drop outs). It's hard to build an economic infrastructure around the most needy. Our plan is to have the scrapping overseen by the Geeks. Wire burning incidentally has been studied worldwide... a study comparing copper wire burning in Europe and USA found it was mostly associated with "teenage boys" who were mostly doing it out of boredom. Correlates to lack of opportunity. Unburned wire is worth about 70 cents per kilo, burned is worth about a dollar per kilo, and burning the wire reduces weight to about .8 of a kilo. Pretty useless, which is why they tend to be looking for other jobs and leave at the first opportunity.
— Robin Ingenthron (@WR3A)
November 23, 2015
TV on young man's head appears to be a Magnavox, seen here on the 1977 Prince Nico Mbarga album.


Mon, 23 Nov 2015 19:27:00 +0000

---
When Formal Market is Criminal, is Informal more Moral?
Quick thanks for a tip from a pal via Tweet, here's a thought-provoking article on Informal Trade in East Africa. Kate Douglas writes in HowWeMadeItInAfrica.com
I'll leave you to read it, it's about the underestimation of the power and importance of "informal" markets in Africa, and how "off the books" trade makes African commerce look smaller than it really is. That's not a huge surprise - how much of the growth in China's economy came from record-keeping of trade previously off the record?
The thoughts provoked here are based on my sadness and disgust at the levels of corruption I witnessed while living in Africa in the mid-80s. I remember going through checkpoints in East Zaire (Dem Republic of Congo) which were set up by soldiers on dirt roads in the jungle. Using a fallen tree to block the road, the soldiers would stop taxivans and demand bribes, while waving machine guns.
When "formal" is run by criminals, the moral market may be the informal.
The good news was that the Congolese soldiers only did this because they'd gone for years or months without pay. Someone in Kinshasa was probably cutting the payroll checks, but they were winding up somewhere in the Swiss bank account of
Mobutu Sese Seko
, the aged dictator. He paid for uniforms and guns, but he stole the payroll. The other good news, I was told - the soldiers had no bullets, or if they had, they wouldn't waste one on a Peace Corps volunteer.
Mobutu vs. Leopold. Discuss

"We should not be seeking to stamp out these trade flows. These trade flows provide a livelihood for millions of Africans and they are remarkably innovative, resilient and effective at getting goods to where they are needed." - Edward George, EcoBank
Colonization was basically exporting nationalism - formal European borders - to societies which didn't yet draw property lines on uninhabited land. Native Americans didn't get it, the Asians didn't understand it, the Mideast still struggles with the concept. Lines on maps are a modern invention.
So as Europeans went nuts drawing lines on maps and sending men in wooden boats to put cloth on poles (flags) to
coup fourre
the lines they drew. Europeans had guns and diseases and lots of bling, read about Cortez and Leopold, etc.
BullyBoys in Boats.
And all concurrent with modern liberal philosophy.

As if you can't have an EnLightenment without an EnDarkenment to put it in.
Criminals like Mobutu inherited "independence" and basically emulated the behavior NOT of the Englightenment folks back in Europe (who were anti-colonial, pro-independence, democratics) but of the
BullBoys in Boats
. I've heard the theory that African tradition prefers "Big Man", the "lion", etc. to explain the sloth of social justice, judicial restraint, etc. But what the colonized had first hand experience with was Cortez guys, who ran the colonies far out of sight of Europe's own system.
OK, That too oversimplifies. The missionaries and the social development and international aid folks have been trying for many decades to make things work again, most of the western run agencies appear to be less corrupt than most of the African run ones. I'm actually as fed up with "colonialism" blame deflection as I am with "formal economy" theory.
It's not about vicarious guilt or inherited innocence. It's just how damn bad the formal sector is.
How can you criticize "the informal sector" when the "formal" sector has been, for decades, run by criminals?
The

informal sector

,

informal economy

, or

grey economy[1][2]

is the part of an economy that is neither taxed, nor monitored by any form of government. Unlike the formal economy, activities that are engaged in the informal economy are not included in the gross national product (GNP) and gross domestic product (GDP) of a country.

[3]

The informal sector can be described as a

grey market

in

labour

. - wikipedia 2015.11.21
People talk about "informal sector" like it's something shameful. Douglas's article, good as it is, wanders around in descriptions of "illegal". But what makes cash trade illegal is a corrupt and powerful government, like Mobutu's, which seeks to put cronies in charge and siphon cash from the good enough, hard working, largely and mostly honest African workers. The "liability" of working outside the formal sector is "liability" in the latin sense. Sure, there is a lot of cultural inefficiency (saying yes when the answer is no takes a lot of getting used to), but loyalty and integrity are Africa's strongest currency, and those often work better in the "informal sector" than they do in the open.
When "formal" is run by criminals, the moral market may be the informal.
The counterthesis is that you can democratize the formal economy afterwards. But the inefficiencies of the formal market make it more expensive, and most of the reasons it's more expensive are not product safety, unions, etc. Most of what makes it more expensive is corruption.
"Vicarious liability" is the juju or fetish of guilt-ridden descendants of both Enlightenment and BullBoy ancestors.
In the Ozarks, where I'm from, it's hard to really really know which 'uns of yor ancestor was fighting for the North or the South in the civil war. I'd rather think my francophone kids descended from Decartes than from Leopold. But it really doesn't matter what got us here physically, we are where we are and making do, and that's how ethics guides trade in Africa. If you show integrity for your family, your tribe, etc., it's "brand value" which has better value than the "formal economy", and its these values that flow through the trade zones of Africa, values which do represent money... but like "goodwill" in accounting, they represent something difficult to account for until it is gone.
))( __ df8 f030 ~~~ ~ ~ [blog end]
Just for giggles, I recently took a DNA test. One of the things I was looking for some long lost Trail of Tears Cherokee DNA that my mom told me about, to help me sleep at night when I was 4 years old and she was telling me about the history of American and what a wholly rotten way the native Americans were treated.
My dad's mothers side of the family (my middle name Freeland) had been in the Indian Service, trying to correct the bullyboy bureaucracy of the calvary (yes, he left a written record, including letters to Washington outing colonels who raped Indians, he had to escape with his family to be reassigned to the Southwest after outing them in the Dakotas).
My dad's fathers side were north Europeanish, hillbilly farmers, who became Ozark lawyers and historians. Uncle Elmo Ingenthron's our most famous, wrote several histories on Osage Indians, Ozark civil war battles, etc.
My Mom's side was more hardscrabble. Smart but lots more illiteracy. Anyway without going into it, that's where the Cherokee was supposed to come from.
But none showed up in the DNA test. I was only expecting a half a percent, based on the verbal history. I know it's also possible to wash out, you might be half a percent blue eyed great grandmother but no blue eye genes to trace, it's more like coin flipping than diluting.
But here's the blog end surprise... the half a percent that DID turn up is sub-Saharan African. I had .. no .. clue. It's possible that a negro ancestor was "passing" or being passed as Indian. The only slaves recorded (in one of Uncle Elmo's books, Land of Taney) in the Branson area of the Ozarks was a woman who lived alone with one male "slave", nothing much written about her but he found it in the census records... Could be a relative?
Anyway my larger point is that tracing bloodlines to historical philosophers and bullies is pretty weak juju for vicarious liability or vicarious credit. In another hundred years, there's going to be so much intermarriage and interracial evoloution that the idea that someone was "colonized" or a "colonialist" stock will be a joke when it comes to excusing behavior. And the vicarious responsibility on used electronics and metals mined from Africa will be diluted out too.
Oh yeah, one more thing, I'm 99th percentile for Neanderthal. Go figure.


Sat, 21 Nov 2015 14:14:00 +0000

---
Africa's Tech Sector Becoming Africa's Banking Sector
WSJ Reports
"Sub-Saharan Africa accounted for more than half of the 255 live mobile money services across the globe in 2014, with monthly mobile money transactions in the region topping $10 billion in late 2014, according to GSMA."
Startup Fuels Africa's Mobile-Payment Boom

MFS Africa's mobile-payment platform is used by 55 million people in 17 African countries
Full article here (may be paywalled). But check out the numbers. This network is built on the refurbished cell phones and phone towers set up by Geeks of Color a decade ago. This is incredible, and helps explain why it makes me furious that Basel Action Network, Greenpeace and PureEarth are making money by hustling and over-producing films depicting Africans as "primitive".
The Geeks of Color are going to inherit the continent, and people are fools to boycott America's access to the ground floor. More Africans are going to college in China today than are going to college in the USA.
#freejoebenson
#thanksobama


Wed, 18 Nov 2015 23:33:00 +0000

---
Sodom and Gomorrah? Fishing as a Boy? Mike Anane via PBS Frontline
"Photojournalism without data journalism jails and fails"
Immediately after our 3 week investigation of Agbogbloshie, Tema, Tamale region and Accra, I went to Vancouver to meet with Graham Pickren and Peter Klein, both professors. Pickren was very kind to meet me for lunch.
Peter Klein initially returned my messages, but did not seem to want to meet.
Klein's at UBC Vancouver, which is responsible for the
PBS Frontline episode in 2010
that labelled Agbogbloshie as "Sodom and Gomorrah." The label was based on interviews with Mike Anane, who has been repeatedly represented as a "journalist" in Ghana.
n'importe quoi
My interviews with the scrappers at Ghana led me to believe Anane is not a journalist at all. I can't find any
record of any articles published by him
, or any newspaper, radio, or television station he has worked for. The Agbogbloshie scrappers claimed he was
"in cahoots" with AMA, the Ghana developers
who wanted to evict them from the increasingly valuable real estate near the center of Accra.
I've written about that before
.
Here's another
UN sponsored report, by African researchers
, on the sources of pollution at the Odaw River lagoon of Agbogbloshie (2002). It's incredibly well documented, and none of it jives with Frontline.
What I haven't really had the guts to do is to question Mike Anane's credibility. I interviewed him at an Interpol meeting in 2010. And I've promoted alternative experts such as Grace Akese of Memorial University or Emmanuel Eric P. Nyalete of Georgia Tech. But when it comes to being an American questioning an African about his depiction of Africa, I've only attacked Anane's figures, his statistics, his 500 containerloads per month story. And independent scholars back us up ("
Criminal Negligence?
")
The claims of the Agbogbloshie scrap workers do appear to hold water. Take a look at the specific Anane representation below, still on the PBS website.
Anane makes a specific personal claim:
"I've always known Agbogbloshie as part of the country's westlands. As a kid, I used to play football here. Some of my friends would go fishing in the lagoon. When I went back and saw the huge amount of computers shipped in and dumped here, it mad me angry that these children had come to break them up." - Michael Anane
Now this is specifically an eyewitness claim. Anane is personally claiming to PBS to have seen computers "shipped" to Agbogbloshie. In the AlJazeera E-Waste Republic series and Cosima Dannoritzer's "The E-Waste Tragedy" Anane makes the same boast... this was a pristine riverside, a fishing village.
Now how does this square with all the reports of Agbogbloshie, and the Odaw River Lagoon
, since 1960? How does it compare to eyewitness reports from any of my own interviews? And Anane's claims to have been an editor in 1991-95 for "Triumph Newspaper" (no record of the paper in Ghana, though there's a Triumph newspaper in Kano, Nigeria). Either Anane was in northern Nigeria, or he was editor from a remote location before the internet. But if that's the timeframe when Agbogbloshie was ruined in Accra, it's at a time when 1) Agbogbloshie was a city dump and auto scrapyard for a city of millions, and 2) there were no strict "ewaste" regulations to avoid as "drivers" per UNEP / "StoryofStuff", and 3) it's definitely not near "the outskirts", it's in the middle of the gosh darn city, visible on Google Maps. Nothing
adds up
... except Anane's
speaking fees
. Oh, didn't know that? Ask reporters, like those of
#ewasterepublic
about the Anane speaking fees, and fees to photograph his collection of plastic with asset tags.
Nyalete, Odoi, and Akese say otherwise, and the reports like the one linked above are pretty darn thorough. Agbogbloshie was a polluted dump before personal computers were sold in USA, let alone discarded. It's larger and more polluted to the degree Accra is larger and more polluted. There is no international dumping link, and no evidence of Eden after
the Akosombo Dam of the Volta River
was completed in 1965. Electricity led to WEEE as roads led to cars.
But Anane specifically says it was "teeming with fish" in 1999.
Dan McKinney and M. Anane report that Agbogbloshie river was teeming with fish in 1999. Bullhockey
Anane is certainly not alone among journalists in claiming to have eyewitnessed "E-Waste Hell". One of my favorite accounts is from
GravityCollapse in DemocraticUnderground.com
"I remember walking through Ghana's "Sodom and Gomorrah" slum while living in Legon and being informed afterwards that I was one lucky Obruni to have made it out unscathed. It was both an immediate and remote experience traveling through an actual slum. Immediate in it's presence, I'd never seen anything like that before. Remote in that it was so real, there was such an overload of everything, that it felt like I wasn't even there. I always wondered why there was so much reclaimed computer parts for sale at the Tro-Tro stations in and around Accra. But here is what I never knew until now...





"Sodom and Gomorrah is the nickname for a slum in Accra called Agbogbloshie and it is the largest e-waste dump on the planet. "
But it is one thing for a visiting westerner to think pyramids are full of grain, and a lush green riverside turned into the worlds largest e-waste dump over a 15 year period. GravityCollapse was probably in preschool, learning about Africa's jungles from broadcasts in the OECD, at the time Anane claims the pollution all started, with sea containers arriving full of junk electronics, somehow paid for by labor savings at orphan conglomerates.
Anane is apparently either fibbing about where he was, or is dishing utter baloney. Inner city Accra is just that exotic. GravityCollapse may be describing his/her personal feelings accurately, but none of us visiting the Agbogbloshie onion market were in any danger.
I lived in Cameroon for 2.5 years, and it was a long time ago. In comparison, Agbogbloshie is more of a traffic jam than an isolated dump on the outskirts. I was running a laptop from wifi, dodging taxis, and the only electronics were arriving by pickup truck and wheelbarrow. But my question is why do organizations like Interpol and UNEP interview Anane and
not Grace Akese
, whose papers are subject to
peer review
and who does not charge speaking fees?
The term "Sodom and Gomorrah" was given to the slum in an early 2000s urban planning document detailing how to evict the residents there, destroy their homes, and make it safe for development. There was no mountain of e-waste then, and there isn't now.
Mike Anane is about my age, early 50s. Agbogbloshie has been the capital Accra city dump since the 1960s, and the pollution of the Odaw River has been studied many times in the 1970s, 1980s, 1990s, and 2000s. It's a car scrapyard. It is not the largest e-waste dump on the planet.
It is time that
journalists
like Peter Klein and Dannoritzer and McElvaney and Raphael Rowe and Peter Essick come and respond to the Africans who call their claims exaggerated, hyperbolized, and ridiculous. They are indirectly responsible for putting Mike Anane in a position to brief Interpol Agents and UK Environmental Agency officials and
UNEP researchers
, who put Joe Benson in jail, despite every single peer researched study contradicting practically everything they claimed.
"All right then, I'll go to hell" - Huckleberry Finn
2015 Unedited interviews at Agbogbloshie
(journalist filming in background)
Ghana Ph.D Student Grace Akese
corrects journalist Kevin McElvaney
Forced Eviction and Demolition of Agbogbloshie
on World Refugee Day 2015
#freehurricanebenson #freejoebenson


Sat, 14 Nov 2015 17:45:00 +0000

---
Refining the Fair Trade Recycling Mission Statement
"Recycling needs to be materials science, not a belief system. Collecting during bad markets is smart, shows reliable long term supply grid."
Fair Trade Recycling is pro recycling. But we are not exactly defined as part of "Zero Waste" movements. We are somewhat resistant to "producer responsibility", at least as a solution for secondhand goods markets - planned obsolescence and right to repair are opposing forces (if producer implies mining and virgin material extraction, we are all ears). If any group has a close affinity to Fair Trade Recycling, it's probably USA's "Net Impact"... young professionals in the business sector who are agents of conscience, making the world better by participating in, rather than reacting to, global markets. The worst recycling is better than the best mining.
At the same time, while we defend and participate in the overseas recycling and repair and reuse sector, we are confronted with the eventual waste and unplanned obsolescence of goods we once exported. Our vision is to turn this into an opportunity, a circular economy, rather than reversing course on the international trade which is clearly benefiting standards of living and information and education in emerging markets.
Our primary incentive is to create a transitional economy for Africa's Tech Sector, the reuse and repair markets for used electronics, which we project will face increasing pressure from new affordable devices (seen in Asia in the past decade). We believe the value of the sector is in the minds and education and ingenuity of the repair market
The "Tinkerer's Blessing" is the working title of a book I'm writing about development and "savior complex" and "charitable industrial complex". It's actually very optimistic, a defense of trade and free market activity in Africa, Asia and other emerging markets. Terry Gou, Simon Lin, Steve Wozniak, etc. were tinkerers very much like the laptop and cell phone repair shop gurus from Tamale and Accra, we want to pitch them as a functional distribution and maintenance market for inevitable growth of solar power models in Africa.
Where will Africa's Wosniak emerge? Who will monetize the "good enough market" in a way that is scaleable (like Foxconn and Wistron), creative like Apple, and sustainable as Microsoft?
It will probably be in the energy sector. Which brings us back to Solar power. Can SolarCity (Elon Musk's transformational solar panel financing scheme) scale solar power in a cash-based economy like urban Africa? Or do we need other innovative financing models, like cell phone plans, to secure investments?
We will need people. Africa's Geeks of Color. Africa's repairers, tinkerers, fixers. We need to stop arresting the people who buy and sell teledensity equipment in Cairo and Lagos and Accra and Nairobi, we need to silence the charitable industrial complex which defines its goodness in misleading photojournalism depicting Africa as a "victim". We need to push out of the closet the NGOs who use pictures of African kids at dumps to raise money which is never, ever spent on Africans.

Photojournalism without data journalism jails and fails. Our mission will outlive me, because it's rooted in the same scientific method and inspired conscience which has made the world's best practices.
- Robin Ingenthron 11/9/2015


Mon, 09 Nov 2015 12:41:00 +0000

---
Lesson in CRT Cullet and Sintering: Size Matters
The EPA vs. American Mining Congress case in the early 90s resulted in the "
remanded smelter slag
" rule. The mining industry convinced the court, and even EPA, that treating slag piles as "waste" with 365 day storage ("speculative accumulation") under RCRA statute, did more harm than good. Today, it's an industrial mineral, and can be kept under basically the same conditions as mined angelsite or other leaded silicate, because treating it otherwise is
anti-recycling
.
Anti-recycling
means that the identical chemical solid is governed more strictly if it's recovered from waste instead of mined from the ground.
The slag has residual mineral value which is used at peak periods of demand. In industrial mineral trade, "peak periods of demand" occur over decades, not months. Had EPA won, all the slag would be covered and capped, and perhaps never dug up again. Meanwhile the mines would be extracting raw ores of various grades, and utilizing high grades or low grades not based on the date they were mined, but on the economy for the material.
The Wall Street Journal has a story with an example of how different grades of mined iron material have different demand.
"The lump premium, the extra paid for lump-form iron ore, is falling, notes

Morgan Stanley

.

The standard product, fines, requires compacting into lumps or pellets before going into blast furnaces. That process, known as sintering, is a dirty business." -Helen Thomas, WSJ "Is this a Tell..."
It's rare in recycling circles to talk about
sintering
. That's basically a hot and somewhat nasty way of taking "fines" from iron ore dust and getting them into a form where they can smelt more easily. "Lump form" iron doesn't need to be sintered, and is considered "high grade".
Powder metallurgy
is a whole different business than smelting at industrial scale.
And this applies to virgin leaded silicate... mined pieces which are the best size for smelting are worth more than dust or huge pieces that need to be broken.
Quality matters, both in chemistry
and
physical spec. Same thing in paper recycling - If you have lots of clean white paper with long fibers, you don't want to muck up your de-inking machine with shredded high ink laser toner paper.
It is the size of the CRT cullet pieces, the contamination (e.g. from higher melting point barium), the percent of lead (and demand for that lead) that matters to engineers. The engineers don't like "fines", they don't like CRT glass that's been shredded and needs to be sintered.
But today's biggest problem, for CRT glass, is anti-recycling... treating identical secondary material at spec more harshly if it's recovered from waste. Today's problem selling CRT glass is less about the engineers -
its about the environmental lawyers.
And they don't like liability... and our "e-waste" industry is shoveling that at them as fast as we can.
How to make powder and fines in CRT glass into furnace ready cullet
Metal dust isn't worthless. But properly sized cullet is more valuable.
When steel prices are high, lump form iron is expensive, and sintering goes on 24/7. And when lead ore prices are at peak on the London Metals Exchange (LME), slag piles from copper and lead mines, which have a decent percentage of lead Pb in the silica, are treated as mined material and bought and sold as a beveling agent, fluxing agent, etc. And pummeled and shredded CRT glass can be sintered and recycled... it's just a lot less economical.
Less than $1 Worth of Paper
There are niches for various grades. If silica has too much lead for a copper smelter, the smelter blends in unleaded or less leaded silica. If silica has too little lead, rather than burning more fuel, a copper smelter employee literally throws bars or rods of lead into the melting pot.
Dusty material which is too fine "blows" out the smelter and increases plant cleanup costs, so a 2" piece of silica with 5% lead has more value than a 15% lead silica that is pummelled to powder (until it is sintered).
E-Stewards made an announcement this week about the Kuusakoski "box in a landfill" storage proposal. The automated machinery at Kuusakoski may tend to produce a lot more fines than a hand disassembly or "CRT Angel" process. It's more expensive to sell CRT glass that's broken into too small of pieces, that is a longer wait for the LME breakeven price, and so the glass is worth less. So, the idea is that you put the glass all in one place, say in barrels or cells, in a landfill. So, it's speculatively available, but also discarded... a way around "speculative storage". I'm not totally against this, but the economics are not about "glass", they are about the form the glass winds up in when you skimp on labor and wind up with mixed cullet and fines.
When E-Stewards says that land application of CRT glass is a "last resort", they aren't addressing the question of why some processes have more "last resorts" than others. This is recycling 101 - lousy grading, lousy quality, gets dumped first when prices are bad. And the people who can't make the quality spec always blame "the markets".
EPA Policy people
need to understand is that the current market glut is not one, but two self-inflicted wounds. In part, it's the percentage of fine glass when operations try to reduce labor by running CRTs through shredders. But it's also "anti-recycling", a bias loop against secondary materials, which has turned the buyers off.
The smelters I spoke with were all willing to take CRT glass if it was properly sized (or if not, to charge fees for sintering), i.e. it was turned into a product they buy - fluxing agent. But they were NOT willing, under any circumstance, to lose the precedent set in the early 90s, by the remanded smelter waste rule, that would put a 365 day "speculative accumulation" time clock on their raw materials.
Sell them a commodity and they will buy it. Ask them to file as a waste processor, and even if the material is twice as rich as ore fines, they will tell you to go pound sand.
Translated roughly, for jist, from Spanish:
"Robin, we've read the reports from Xstrata and Noranda, and your samples are good. We can do this. But it's a favor, not a business. This smelter generates $55 million dollars per day. If we have to walk down the hall to the environmental lawyers office, your material is not worth it at any price. We did this to help our neighbors, the people in the village you were trying to help. We didn't do this to get into the waste business."
And they are right, because in the E-Stewards press release,
BAN stated this week
:
"Use of CRT glass as an alternative fluxing agent in lead smelters will remain a preferred option as long as a lead recovery rate of 95% or higher can be demonstrated by the smelter. In the absence of such data, this option will be considered as a Conditionally Allowable Option only."
That sounds like a lot of monitoring and a lot of trips to the smelter legal office. Because BAN doesn't understand industrial minerals. Virgin slag does not involve recovery of 95% or higher. But if the lead ISN'T in the slag, the smelter has to mine lead and add it to the flux.
It is a bit like banning use of recycled paper in toilet paper because the paper is lost after it's used. So we should cut down spotted owl houses to make toilet paper, because it's not good enough a fate for our recycled office paper...?
If it replaces mined / extracted material, it is recycling. Period.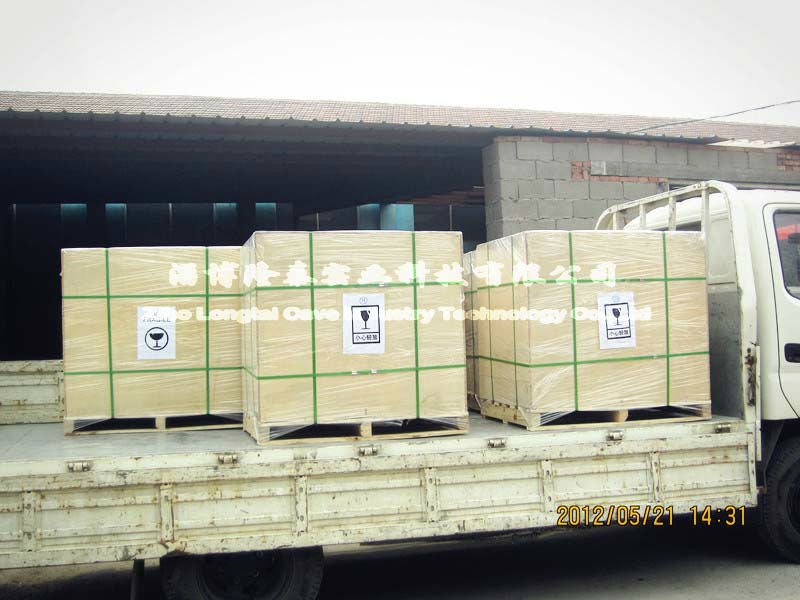 Size Matters: How big is your broken glass?
The way CRT cullet is being regulated is like continuing to call steel from shredded toasters "toaster steel" rather than light iron, and trying to transport it under the harmonized tariff code for toasters. Once it's properly sized, furnace ready cullet, sold as fluxing agent, it's no longer the object "cathode ray tube". It's an industrial mineral that meets buyer's spec (or doesn't, in which case it may be waste).
Copper smelters today are all adding virgin lead to silica. They are looking at size of nuggets as well as lead chemistry (and the negative value of barium panel glass on melting points). And when the LME is high, they will go out to the places where the remanded smelter slag is piled, and they will recycle the fluxing agent when the time is right. Not in 365 days.
Their lawyer said that if there is any CRT glass in the slag pile, the entire pile could be subject to 365 days "speculative accumulation". He warned the engineers to stay away from it. Four people in an NGO could vote a different way tomorrow, he said, exposing the company to enormous liability.
Anti-Recycling is the kind of stupid environmentalism that I thought we transitioned from in the 1980s and 90s (yes, I do remember people making the anti-toilet-paper argument at Massachusetts DEP, that it was "downcycling" compared to greeting cards... which are often not even sold or opened or read).
"If I was the richest man in Mexico, and every day I drove bought a cup of coffee, I might see your add for Fair Trade Coffee, and maybe I'd try it. Maybe I'd even pay a bit more for it. But if I had to sign a paper pledging I was good enough a person to drink your coffee... well good luck selling that."
Wendy Neu is on the BAN board
. She voted right on the Kuusakoski exemption. But she doesn't seem to understand sintering or fluxing agent, and the decision by E-Stewards continues to poison the well on CRT glass as an industrial mineral.


Fri, 06 Nov 2015 13:49:00 +0000

---
Fair Trade Recycling's 2020 Vision for Agbogbloshie Ghana
In March of 2020, five years after Fair Trade Recycling toured Ghana, a thriving refurbishing, assembly, and recycling operation exists. Chendiba Recycling Enterprises, headquartered in Tamale, has hired most of the Ghana scrap workers who previously hung about Agbogbloshie looking for copper on a barren and charred landscape. The recyclers have uniforms, appropriate tools, and safety training. They offer tours of the recycling operation to Western university students, reporters, regulators and photographers. Visitors are housed in a new affordable housing complex, erected where the slum was bulldozed in 2015. This "urban eco-tourism" has created opportunities for economic migrants in Accra, and also at similar "recycling parks" in Tamale and Kumasi.
Transforming attitudes, not Africans
The recycling staff are overseen by Technicians of Chendiba Enterprises, a computer, cell phone and television "R and O" (Repair and Overhaul) operation. Chendiba was nearly shut down by misdirected environmental enforcement in 2015. Happily, Africa's "Tech Sector" workers are now recognized as the best and brightest of Ghana's economy.
"We would no more boycott the Techs of Agbogbloshie than we would a manufacturer takeback program," said a spokesperson for an environmental NGO, who is taking university surplus property officials on a tour of the grounds. Referring to the past decade of boycotts as "collateral damage" and "friendly fire", the NGO leader now promotes a "Hurricane Joe Benson" scholarship to bring students from around the world to see "win-win" in action. "The Tinkerer's Blessing" is seen as the best, most sustainable economy in emerging markets - the opposite of the Resource Curse. Africa's geeks add value to e-scrap with their minds, and use the profits to clean up Africa's own recycling yards.
Environmentally and Economically Sustainable
The program is funded not only by the environmental tourism, but by the very import-for-reuse economy once targeted by anti-globalization NGOs. Chendiba is now the leading importer of, and recycler of, flat screen LED and LCD televisions worldwide, and employs hundreds. "While the major cause of waste generation in Europe and the USA is physical screen damage, Africa's flat TVs most often suffer from blown boards due to 'fuzzy current'," explains Muhammed Odoi. "We import and part out the TVs and use them to provide affordable parts in Ghana."
The Fair Trade Recycling program does not need European customs agents or Interpol staff to interfere with Chendiba's imports. It encourages the import and export as a "value added, job creating industry". Asked whether the parts are "properly tested" in America, African regulators now shrug. They explain this recycling system is based on "carbon trading" models. "For every ton of electronics we import to Ghana," explains Muhammed, "we collect and recycle two tons of old electronics from Ghana's cities."
The Fair Trade Recycling program has been much easier to monitor and enforce than "PAT tests" (which never accurately predicted African consumer demand or shelf life) or traditional "certification" programs. The Chendiba traders order and buy what they want. Chendiba must simply show it recovers and properly recycles at least as many pieces of "ewaste" from Africa's cities as it imports. VCRs, CRT televisions, Pentium 1 computers, etc. were imported in the 1980s and 90s, used productively for years, but now need a recycling solution; Chendiba is there.
As more countries allow export under Fair Trade, the quality of imports has improved. "We no longer have to choose between buying in back alleys and staying barefoot and off the internet," says Kamal. "We benefit from more choice of suppliers, lower prices, legally enforceable contracts, openness, and transparency. It is a "computers for clunkers", or needle exchange, or carbon trading model. We recycle as much as we import, period."
Marketplace Solution vs. Enforcement
The 2020 "ewaste trading" project has been far more successful than western certification programs. It is less paternalistic, more transparent. It involves less liability for sellers, and frees up valuable Interpol time to pursue endangered species poachers, rather than "geeks-of-color". This circular economy interferes less with the "good enough market" African consumers depend on. The main question, students here ask, is "why did it take so long to accept a solution so simple?"
Just as it is more efficient for an airline to pay for carbon removal by planting trees than to squeeze more carbon from jet fuel combustion, it's easier for Africa's Tech Sector to recycle the urban e-waste than to "certify" every piece they import. Fair Trade Recycling assures that even if an item is damaged in shipping, that a recycling infrastructure is in place to manage it, and that another piece of junk was properly recycled in exchange. The program brings Ghana's poorest scrappers and drop-outs from the slums, and surrounds them not with Western "saviors", but with the Africa's high-tech entrepreneurs, Africa's valedictorians.
Legal, Safe, and Necessary
American and European recyclers now get to meet the technicians overseas who were once impugned as shady characters, and pay less tax money to prosecute them. They see that Africa is not a jungle, not a dystopia. They see that African techs, African consumers, and African recyclers are no more "primitive" than Americans, Europeans, Asians and Latinos. They need affordable technology, and then have decades of older machines to recycle.
"Most Africans live in the Africa the media never showed you," says Wahab. "Fair Trade Recycling sees Africa for what it can do and must do, not for what we cannot do."
"We are transforming attitudes rather than Africans."
This is a pre-published excerpt from the 2015 Fair Trade Recycling report on Agbogbloshie, Ghana by WR3A.org. This is our vision - not of boycotts and paternalistic "training" by Western NGOs. It harnesses what Africa's Best and Brightest already have, right now. Like most win-win paradigms, it can be self funding, but needs help in the development stages (e.g. to cross train Americans in Africa, and Africans in the USA). Please contribute to WR3A via FairTradeRecycling.org to help make this real.
Why do we always define signs of intelligence as something we understand and recognize? It usually turns out that we didn't recognize it because of our own "lack of intelligence". - WR3A


Sun, 01 Nov 2015 22:29:00 +0000

---
Intercon Solutions vs. Charity Conjecture Complex NGO
Last week I had a brief telephone interview with Brian Brundage, CEO of Intercon Solutions. Brian had texted me about his lawsuit vs. Basel Action Network, the NGO in Seattle which accused Intercon Solutions of illegally exporting toxic computer scrap to China.
I've written about Intercon before. I don't really claim to know the facts of the case. But I do know very well the modus operendi of the NGO in Seattle. From Oxford dictionary...
con·jec·ture ( kənˈjekCHər/) noun
an opinion or conclusion formed on the basis of incomplete information. "conjectures about the newcomer were many and varied"
synonyms:
speculation, guesswork, surmise, fancy, presumption, assumption,theory, postulation, supposition;

verb
form an opinion or supposition about (something) on the basis of incomplete information. "he conjectured the existence of an otherwise unknown feature"
synonyms:

guess, speculate, surmise, infer, fancy, imagine, believe, think,suspect, presume, assume, hypothesize, suppose
"I conjectured that the game was over"
In several direct cases I am personally aware of, Jim Puckett of Basel Action Network defamed businesspeople on little evidence and lots of assumptions and a dollop of chutzpa. PT Imtech in Semarang, Indonesia was one. He was the primary source of the "80% of used electronics are junk" faux statistic, according to everyone from Terry Gross (Fresh Air) to Peter Essick (National Geographic) to the new generation of photojournalists (Benito, McElvaney, Hugo, etc.)
The photos of Agbo don't generate money for orphans or recyclers. They generate money for journos, NGOs, lawyers and defamation cases.
At the EScrap Conference, held by Resource Recycling in Orlando for the last couple of years, Jim spoke to an audience that was shown direct evidence that Agbogbloshie never received a sea container of junk electronics. Ever. Not even accessible. Two professional experts born and raised in Ghana (Grace Akese and Emmanuel Nyalete) were there with him in the audience,
telling him that Agbogbloshie was a scrap automobile yard
, and that the VCRs and computers delivered there are collected house to house in a metropolis of 4 million people who have had electricity for decades (Accra proper is about 2.5M, but the city has expanded. Agbogbloshie is a slum and market near the city center).
Kevin McElvaney, the German photojournalist, was at the conference as a speaker and also in the audience. The following day,
McElvaney inserted himself to answer a question directed initially to Grace Akese, the Mem
orial University Ph.D. researcher from Ghana. McElvaney basically gave Jim's version, that the junk is distributed through repair shops and secondary markets. His evidence was not in any of the Secretariat of Basel Convention funded studies... it was based on what he knows... photography.
Here is a picture I took of junk TVs at several of these shops.
Here is a picture of the TVs at Tema, where the imports go.
Do the photos support Jim Puckett and Kevin McElvaney's representation? Or do they support Grace Akese's and Eric Emmanuel Nyalete's? Note that when I take a photo for evidentiary use, I don't pose a child on top.
Accra has had television stations for decades - since before McElvaney or Grace Akese or Nyalete were born. Eventually, they do reach end of life. And they do, eventually, wind up in Agbogbloshie. Decades later. If not where did they go? BBC and Al Jazeera of all people should know about broadcasting and viewership in African cities! (in the upcoming report, I have interviews with retired British TV station engineer who lived for 3 decades in Africa).
Conjecture that the goods in the pile at the dump came via containers at the port of Tema serves one purpose - bias confirmation.
None of this is about Intercon Solutions or Brian Brundage
. Not directly. But look at BAN's press release about the "dismissal" of the defamation case. Now read the actual judgment. And look how BAN is funded. Charitable Industrial Complexes can be expensive to maintain, and the "collateral damage" (Puckett's phrase) can be high.
Brian said that although he was winning, that BAN's lawyers had bled him dry. He estimated that both sides had spent a cumulative million dollars on the case, and that if Intercon won, BAN could not have paid a judgement that covered those costs. He said his attorney and BAN's attorney had decided, mutually, to quash the case.
"With prejudice", which BAN's press release implied is based on a finding of fact that Intercon was guilty, simply means both sides agree not to retry the case. It's an agreement to close all suits and countersuits arising from the original filings.
Brian said "why Jim does that,
puts out a press release implying victory
in a mutually dismissed case, is a mystery to me".
But it does fit a pattern, doesn't it?
An industry of conjecture, impugnment, and racially charged photography. In Intercon's case, it was about money and reputation. In Joe Benson's case, it's about freedom and family.
Let's see if BAN is willing to sue me.
#freejoebenson
Jim said on film he did not know the name "Joe Benson". But he does, and I have proof he does. It's proof that Jim will say something to a reporter which he knows specifically is a lie. And he is damaging people. Whatever the facts behind Intercon's case, Jim is lucky that Africans and Indonesians and Malaysian technicians don't have the resources to sue his NGO for defamation.
His lies are floating all over the internet, and like stubborn pieces of plastic litter, they aren't going away. And a generation of students in college are meeting African and Asian exchange students, they are visiting places like Cairo and Lagos and Jakarta and Guangzhou, and they are seeing for themselves the number of 1980s CRT televisions and VCRs are in the closets and garages in Africa, Asia, and Latin America.
And they don't like being lied to.
I wonder what Donald Summers thinks about the organization he used to consult for. I never sued them for
what Donald said about me personally.
The lies about me (which Donald called and apologized to me for) were in a story by Chris Paicely (Chicago Patch) on Intercon. Donald told the reporters that the p
rofessional refurbishing factories I described and gave photos of did not exist
.
I didn't tell the Patch reporter I knew Intercon shipped to those factories. I said I didn't know, but the fact some used CRTs are exported to Asia does not prove dumping, that the percentage of waste BAN claimed was in the containers was conjecture.
On behalf of BAN, Donald said things which impugned the contract manufacturers and even the recyclers overseas. I didn't sue, but not because I'm afraid of BAN. And in answer to Brian's question, why BAN would issue a release claiming fact finding by the judge and evidence of dumping, I think I know the answer.
Basel Action Network is a bullyboy. They survive on our fears. They thrive on liability, and conjecture, in order to shake recyclers down for "certification". I think there are other words besides conjecture. And some of them may be subject matter for criminal attorneys, not for civil lawyers.
Poverty porn and pics of kids at dumps. The gift that keeps on taking. If the outrage is questioned, just look at the lengths of conjecture and libel and defamation some NGOs will go to.


Sat, 31 Oct 2015 14:28:00 +0000

---
Ethical Photojournalism: Out Damned Spot
Ok I'm really honing in on the central theme of the blog.
Our species has evolved to react, individually and as a society, to stimuli. But for an evolved social network, it goes beyond "greed and fear".
"Human nature is complex. Even if we do have inclinations toward violence, we also have inclination to empathy, to cooperation, to self-control." - Steven Pinker

But if we also are motivated by beauty, by curiosity, and other inspirations (such as "faith" or "loyalty"), that does not mean that the "greed and fear" cease to exist as drivers.
My life goal at 17 was to grow up to be an "Agent of Conscience". I also wanted to be a philosopher, but professionally to follow Hesse's Siddhartha, a path of hands on experience as a foundation for some revelation.
Not at Nirvana yet, but the meditation and self assessment continues to yield wisdom dividends.
Are we just animals? Is there no higher power? Do we just bounce off of each other in reactions to greed and fear? Does "nurture" for people we don't know just spill over only when our own children are cared for? Or does the power to nurture give us a justified pride in our self-worth, a self-worth which is tangible and real?
I definitely think it matters whether I'm an ethical and principled actor and agent. To me it makes a huge difference if I'm given credit for a lie, for someone else's work, etc. Sacrificing pride, or "spiritual materialism" in part prepares us not to get too "hooked" on the Choir's praise.
What does this have to do with recycling?
1. Recycling is positive energy. You are avoiding mining more mountains and cutting more forests. You are conserving energy. Even if there isn't a good market from year to year, by continuing to recycle we are demonstrating the reliability of the secondary market as a source of supply, and economically rewarding factories which invested in recycled feedstock use.
2. Pride is addicting. While we can enjoy the positive energy of doing hands on work and saving as much or more of the planet's resource than we consume, we can also fall to "moral licensing". By using a reuseable shopping bag, we might feel justified in littering, for example. An economics of credit, liability, and licensing is both evolved and culturally practiced.
3. Saving the World with a Hashtag is "easy". Like easy money, money we inherit, don't earn, it's great. If we stumble upon something happening that's bad for the planet, and just hashtag it into a viral movement, we can get all the great feelings with little of the effort. We have evolved to accept low hanging fruit, literally and spiritually.
4. Honesty, Truth and Accountability is good. If we make a mistake and "hashtag" the wrong cause and effect, and earn a job "doing what we believe in" but find out what we believed in was wrong... we can be saved by our integrity. No doubt the Western medicine pioneers who discovered mercury worked as a laxative made a million dollar health care economy out of poisoning people. But Western medicine saved itself by scientific method and accountability. We didn't make Hg laxatives "holy" or make them proof of God, so we could fix it and move on.
5. Finding someone who is weaker than we are - morally - can also be used for moral licensing. We are outraged by KKK racists, as we should be. But are they really a thing? How many KKK members are out there? Don't we play up other peoples racism to make ourselves feel better about our own "crossing the street"? We have evolved to seek out majorities and not stick out, and skin color and culture is a currency with "risk and benefit ratios". Perhaps whites oppose racism because we see the global numbers? I don't think so... I think the German immigrants fighting the Irish immigrants and the Navajo or Apache fighting the Hopi are skirmishes which are "diluted out" by more and more mixing of culture.
So sometimes I have to ask myself, how much of my ethics are "enlightened" in a "best for all of us" sense, how much are "enlightened" by my self preservation, or my childrens? And how much is pure enlightenment, when I sacrifice something dear to me, to my family, or to my tribe, out of pure principle?
The latter is the question we can pose of the Abolitionists. John Brown's abolitionism took his own life and his sons. Was his methodology effective? Or was he just causing the South to "weaponize" and setting the stage for Secessionism?
In the end I believe in wisdom.
And you make yourself more wise both by seeking the truth and by preparing yourself to accept bad news.
And the wise among us can see that the economy of photojournalists taking chump photos of African kids perched like chimps on piles of garbage, leaving without paying the Africans, and allowing the photos to be used by NGO's who don't donate a single penny to the Africans, and who instead exaggerate and proliferate horrible lies which get Geeks of Color thrown in UK jail cells, is as good a cause to feel angry about as any. A good Buddhist warns that such anger can be blinding, intoxicating, and reduce enlightenment. But the Western John-Brown savior, the Huck Finn who helps Jim escape ("I'll go to hell") gives us faith that society can change, and that a society which continues to stubbornly profit from unfairness risks losing everything.
My aim is true.... Cover of 1977 (the year I read Siddhartha) hit Alison by Elvis Costello.
The artful balance of the archer analogy returns.
How can environmentalists live with ourselves funding this racist campaign to boycott the poor? Environmentalists are selling mercury as laxative. Out damned spot. We have some dirty laundry in the #ewaste movement, and we need to come together to do the right thing.
Lady Macbeth:
Out, damn'd spot! out, I say!—One; two: why, then
'tis time to do't.—Hell is murky.—Fie, my lord, fie, a soldier, and
afeard? What need we fear who knows it, when none can call our
pow'r to accompt?—Yet who would have thought the old man to
have had so much blood in him?
Macbeth Act 5, scene 1, 26–40


Thu, 29 Oct 2015 13:39:00 +0000